A box of ideas - sparking children's imaginations
Published on 26th May 2020.

We have been working with our local Family Centre at Wellspring Settlement and Barton Hill Activity Club to distribute story-based creative activity boxes to families in the local community who are most in need. These families are particularly impacted by social distancing, many living in high rise flats with little space to play.
While compiling another batch of boxes, we caught up with Edwina, the artist we commissioned to curate the boxes, and Heidi, Travelling Light's Artistic Director, to find out more about the activity boxes, their inspiration, the materials included and their narrative elements.
What was the initial inspiration for creating these activity packs for the local community?

Heidi: "The boxes came about primarily from a direct community ask with our local family centre. It was about families in our locality requiring craft activities and as an organisation that is all about providing creative opportunities for children and young people. We wanted it to be a quality artistic experience. So that's why we commissioned the wonderful Edwina Bridgeman, because of her direct experience with dealing with families in such a way. And choosing quality materials that feel like a gift rather than materials that one might just assemble in a flat pack."

What is Edwina's connection to Travelling Light and why did you commission Edwina as the artist to curate these activity packs?
Heidi: "Edwina has a long and established connection with Travelling Light over a number of years, starting with Snow Mouse, and the development of this as a piece of installation theatre for early years, and then developing into the work we've done with Igloo.

As an organisation we value integrity and creativity and complete value and connection to the child, and Edwina embodies all of that – not only in her work with us – but throughout her whole practice, and so that's what makes Edwina such a strong link to us and why she was the obvious artist to work on these boxes with us. Because at a time when some of our children are having some really challenging times, we needed to have a very special artist to put together some very special boxes."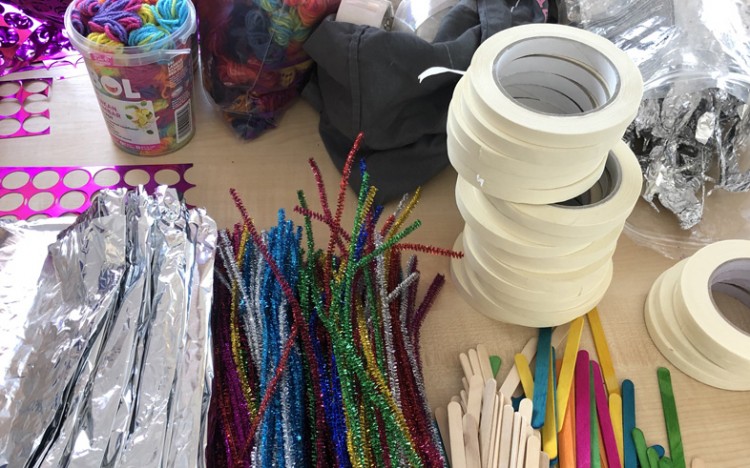 Colourful materials for the creative packs
A selection of the materials included in the boxes.
What inspired you to choose the materials that you have included in the boxes?
Edwina: "For this particular set of boxes, quite a lot of materials are reflective – so that's one theme that's going on. And we looked at making small sculpture out of silver foil. I'm very much an artist that likes to make things out of provocation. So you won't find in the box a big instruction manual. It will be things that you will want to be involved with, materials that are fascinating in some way – it's a box of ideas.
This time as well, because of the circumstances we find ourselves in, a lot of people are indoors and not able to go out, and working with Travelling Light, it was very important that there was a strong narrative element to the offer, which fits very well with my artistic practice. So I was thinking about offering a bird, and a person, and a little scene, and those are the gift (the offer) and then alongside that are a wealth of materials, which the families can use to make what they would like, but there's that narrative element there as that starting point. To have a narrative element within the box, but a free invitation with materials is a good combination."
Heidi: "It's this notion of conversation. What Edwina has done is orchestrated a conversation of materials. Materials that talk to each other: you have wool, bright sparkly pipe cleaners, there's masking tape, there's reflective sequin materials and thick quality materials, wood, paper and paint. Quality ingredients."
Edwina: "Behind all that, there's the box. And whatever is inside the box, it is ultimately the box itself that is probably going to be the most important thing. I thought it was very important to source some white boxes, so they can act as a blank canvas. Again, no instruction manual, but there's a sheet inside the box with some drawings of different things that can be made out of the boxes. So as ever, it will come down to the box, and what one can do with the box."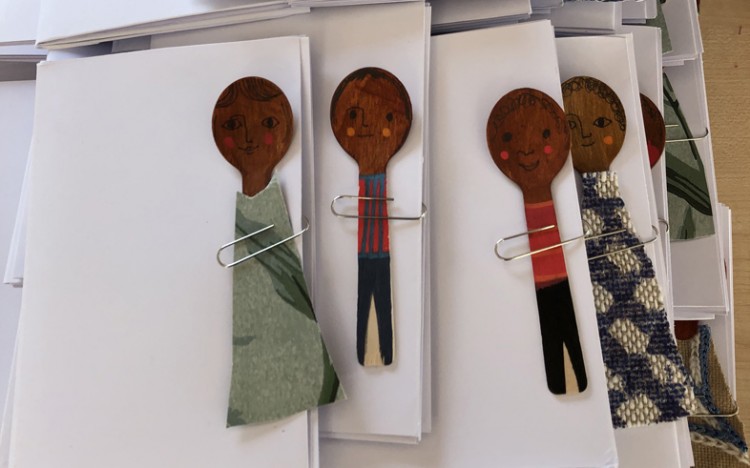 Figurines
The figurines included in the creative activity packs.
The boxes are 'story based creative activity packs' - what's the inspiration for the narrative, and how do you hope the materials will spark the imaginations of children and young people?
Edwina: "This particular box was very much based on my own practice, where I have told stories through materials I have found, telling stories three dimensionally. And it's actually something that is very simple to do. I think starting with a figure and a little book and an outside object is all you need. Actually, probably all you need is the figure. It's something that I think immediately a family can identify with and then they can begin to imagine themselves on an adventure. Different textures, different surfaces, different colours, nothing is off limits really using the figures, the books and the birds as a provocation, as a starting point.

I think as well it's important to look at some very practical issues, which comes from experience. A lot of families understandably don't like there to be a huge amount of mess and there might be limited space. So masking tape – you can stick anything to masking tape – and it's tear-able by little hands, you don't even need to use scissors. Pipe cleaners – completely bendy and again you don't need to use scissors with them.
It's also about being playful – it's all just very straight forward. There's no right or wrong – it's theirs, it's absolutely theirs to do with what they want."
Heidi: "What is key to Travelling Light and why Edwina and Travelling Light work so well together, is that the child has always been at the heart of Travelling Light and these little figurines are so terribly child-like, so your main character and narrative is a child. And that is the situation for most of Travelling Light's productions – the central character is that of a child. So what we're doing is empowering these children in themselves – in seeing themselves reflected back in these little figurines."
How do you hope the boxes will support children's wellbeing through these difficult times?
Edwina: "I think the surprise of it – it might be a box of things that you haven't necessarily come across before – there's an element of surprise about them. But at the same time they're very safe. I think they will be an inspiration There is not a great expectation. I think it's just going back to that idea of it being a gift."

Heidi: "At this time when there are all kinds of challenges, to be able to give a very humble gift to a child to allow them to play – and we know the importance of play in terms of wellbeing and health – and the key role of creativity within children's health and wellbeing – and this is a gift that enables them to do that.

And the other thing that I think is really important is that it allows children to have a bit of time for quite peaceful activity – and with these figurines they have a friend – they have a playmate to take on an adventure and that will hopefully be of benefit to the children who receive these boxes."
Thank you for reading! We plan to do a follow up story soon, with feedback received from local families and children.
Can you support us to provide more creative activity boxes for children and young people?
Become a Travelling Light Friend or donate today to help us continue to inspire young people during these difficult times.

Would you like to receive more behind-the-scenes interviews about our work? Please consider joining our Friends scheme. Travelling Light Friends are our regular supporters and receive biannual newsletters with behind-the-scenes interviews, giving them insider knowledge about our work.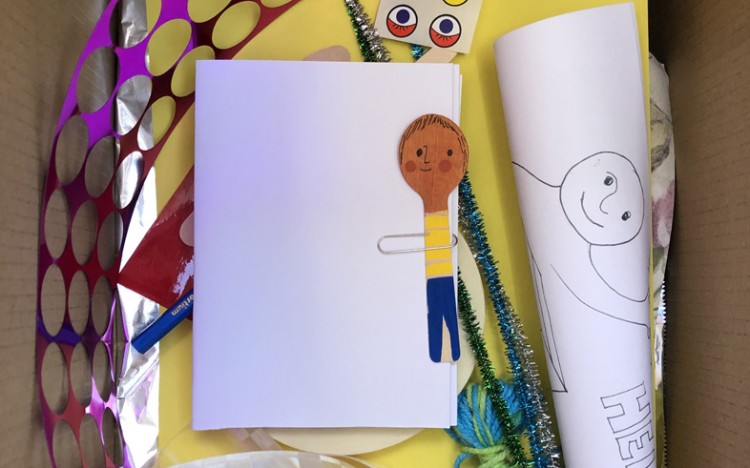 Materials for the packs
A photo of some of the materials included in the creative activity packs.