Stories transport children beyond the world they live in, sparking their imaginations and igniting their curiosity.
From families experiencing moments of shared joy when watching theatre for the first time to young people finding a safe space to express themselves, creative opportunities can change lives.

Every year, we help thousands of children, young people and families to create, imagine and experience great stories.
We need your help
As a children's charity, we rely on donations to keep providing opportunities to create and imagine for all children and young people, especially those who are the least able to seek them.

Make a donation
£50 could pay for a workshop leader to run a taster session for young people to try Louder Than Words for the first time.

£20 could pay for travel costs for a young person to attend workshops.

£10 could pay for a ticket for a young person to enjoy a show online or at the theatre.
Be our Friend
If you sign-up to give regular donations you become our Friend. Travelling Light Friends are our biggest supporters helping keep our doors open to young people all year round.
Pick a fundraising idea
Pick a fundraising idea and help us raise vital funds to invest in creative childhoods.
Previously friends and supporters have run, cycled, swam, danced and more to raise money for Travelling Light.
We've listed a few ideas in below. Do get in touch if you'd like to discuss organising a fundraising challenge.

1) The birthday fundraiser
It's your birthday and family and friends love to give. How about setting up a simple Facebook birthday fundraiser so family and friends can give to a cause you care about - raise money for Travelling Light.
2) Organise a cake sale at work
Everyone loves cake! Arrange with your place of work to hold a cake sale. Bake yourself or encourage colleagues to chip in. This could be a one-off or regular event depending on how much your colleagues love cake!
3) Organise a socal fundraiser
Why not host a dinner party, film night or other social gathering with guests encouraged to donate or pay the price of a ticket for the event? Maybe a 'Murder Mystery' evening...
4) Take on a challenge
Maybe you've always fancied completing the 3 Peaks Challenge? Or maybe cycling or running are more your thing? Take on a run, swim, cycle or any other personal challenge to raise money for Travelling Light.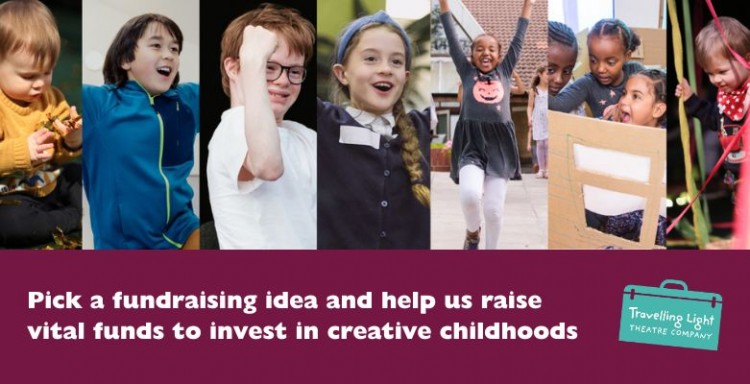 Pick a fundraising idea
Help us raise vital funds to invest in creative childhoods.
Easy Fundraising
Help us raise FREE donations with all your online shopping.
Easy Fundraising lets you raise FREE donations for us every time you shop online. Over 7,000 brands will donate, including all the big names like John Lewis & Partners, Expedia, Argos, Just Eat and many more!
Where does the money go?
Find out more about how your donations support our work in the stories section of our website.