Create - Perform - Experience - Connect - Tell your story
We run four weekly youth theatre groups from our studio in Barton Hill Settlement, Bristol. No experience or audition necessary, these groups are open to everyone and provide a safe space for young people to express themselves each week.
7-10's - Wednesdays, 4.30-5.30pm
11-13's - Wednesdays, 6-7.30pm
14-19's - Mondays, 7-8.30pm
Louder Than Words (for disabled young people) - Mondays, 5.30-6.30pm
We have spaces available to join our 11-13 and 14-19 groups. To book a trial session, contact Louise Betts.
We are no longer operating a waiting list for our groups and will advertise vacancies via community partners and our Take Part newsletter.

For termly updates, please sign up for our Take Part newsletter - or contact Louise Betts.
Fees are £56 per term (8 sessions). Bursary places are available for those that need them. Please contact Louise to discuss.
For more details, email Louise Betts or call/text/whatsapp 07305008789.
For Young Disabled People

Find out more about Louder Than Words, our unique drama group for disabled young people aged 7+.
Watch our short film about Youth Theatre
Find out more about our youth theatre.
"I think the most important thing is the creativity of it… we don't like have just a script of something. It's completely original, so it means we can basically do whatever we want with the plot." Youth Theatre member
"My son's confidence has grown hugely during his time with Travelling Light, and I think as a result of that he's more likely to be prepared to have a go at other similar activities at school and so on whereas previously he might not have done." Youth Theatre parent
"One of the things I value the most about TL is how you get to meet lots of new people, and as well as the drama, you get to have fun and learn about each other and make new friends through this nice experience." Youth Theatre member
The quotes above are from an evaluation of our Youth Theatre programme in 2019. Between March and December 2019, we commissioned Evaluation Consultant, Nell Farrally, to co-ordinate a collaborative evaluation process to understand what children, young people and families think about our Youth Theatre programme and to understand its impact. You can read the executive summary here.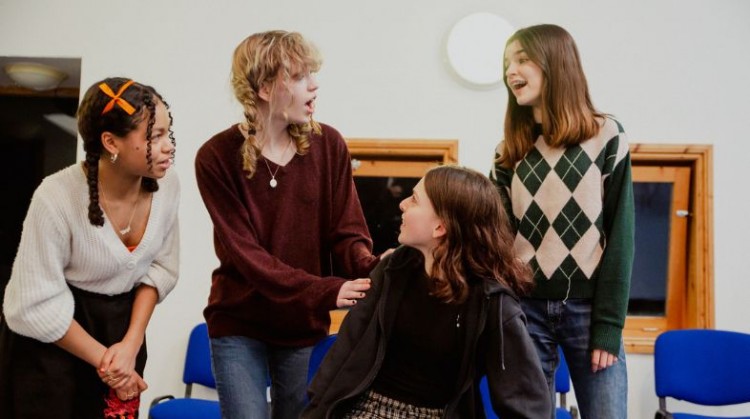 14-19's Travelling Light Youth Theatre
Taking part in a youth theatre session in spring 2022. Photo by Camilla Adams.