Create - Perform - Experience - Connect - Tell your story
Travelling Light run three weekly youth theatre groups from our studio in Barton Hill Settlement, Bristol. No experience or audition necessary, these groups are open to everyone and provide a safe space for young people to express themselves each week.
Being part of Travelling Light Youth Theatre you will:
Create your own work. We are a devising company which means we shape the stories we tell together.
Perform your shows at theatres, showcases and unique locations around Bristol.
Experience working with professional directors, designers and choreographers.
Connect with friends, discover new skills and have fun!
Youth Theatre Times
14 - 19 years - Mondays - 7pm-8.30pm
11- 13 years - Wednesdays - 6pm-7.30pm
7 - 10 years - Wednesdays - 4.30pm-5.30pm


Fees are £35 per term and bursaries are available upon request
Spring Term dates 2020:
w/c 20th January - w/c 16th March (break post half term w/c 24th February)
We will be taking a break in term 5 (between Easter and May half term) to complete the reporting required by the Youth Investment Fund who have funded our youth theatre programme for the past 3 years. We hope to share the results of our evaluation during this time. We will also be looking at movement between groups so that those young people ready (or old enough) to move groups can do so from June onwards.
Summer Term dates 2020:
w/c 1st June - 6th July
Youth Theatre for 2020 – 2021 will begin at the end of September 2020 and run for two terms with our annual Youth Theatre Showcase towards the end of March 2021.
We currently have a long waiting list to join the youth theatre for the 7-10 & 11-13 year groups and are therefore not accepting applications for the waiting list for this group. However, for young people aged 14- 19 years, we are able to accept new registers of interest. Please access the online Register of Interest form here.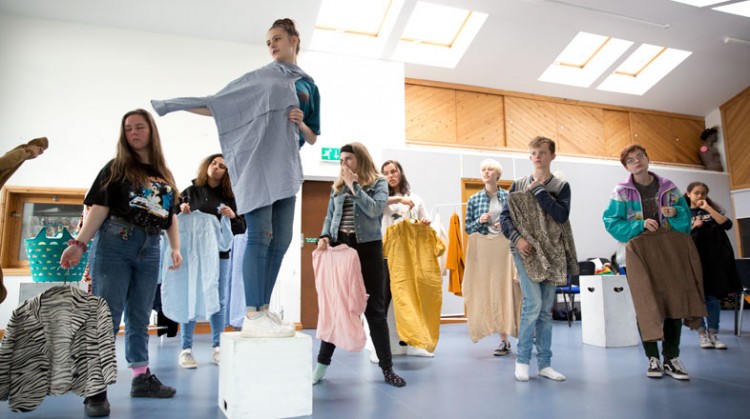 Travelling Light Youth Theatre rehearsal 2019
Photo credit Craig Fuller