Discover Arts Award - online
We are delighted to offer Discover Arts Award online to our Youth Theatre participants (7-10's).
Arts Award supports you to discover the arts all around you and take part in different arts activities - anything from animation to singing, you can find out about artists and their work and share your art discoveries with your friends and family.
You share your experience in a portfolio or arts log and receive a certificate when you complete your Arts Award.
Find out more about Discover Arts Award and see if it's something you'd like to do here.
Travelling Light is an Arts Award Centre and our advisors can help you to achieve your Arts Award.
What you will need:
Access to the internet on a device that allows you to browse the internet, watch videos and communicate with others.
Paper and pens or a way of recording what you have done - this can also be a word document or photo journal.
Travelling Light will provide:
An Arts Award Advisor who will help you plan your Arts Award, share ideas and tips.
What do we mean by the arts?
Lots of things! Arts Award recognises a wide range of arts activities:
Music, drama, dance, storytelling, circus, painting, drawing, sculpture, fashion, design, architecture, books, poetry, journalism, photography, film, web design, game design - and more!
What's an Arts Log?
You will record everything you do for your Arts Award in an Arts Log (sometimes called a portfolio). You can include photos, drawings, writings, notes, videos and your adviser will help you to do this. This log will be a record of your Arts Award for you to keep.
The Discover Arts Award has 3 parts:

Part A - Discover
Take part in a range of arts activities to learn more about the arts.
Part B - Find out
Find out about artists and their work.
Part C - Share
Share what you have enjoyed about doing your Awards Award with others.
For more details, please contact Lou Betts, Youth and Community Officer: takepart@travellinglighttheatre.org.uk
Create - Perform - Experience - Connect - Tell your story
We run three weekly youth theatre groups from our studio in Barton Hill Settlement, Bristol (although currently all face-to-face meetings are postponed). No experience or audition necessary, these groups are open to everyone and provide a safe space for young people to express themselves each week.
Being part of Travelling Light Youth Theatre you will:
Create your own work. We are a devising company which means we shape the stories we tell together.
Perform your shows at theatres, showcases and unique locations around Bristol.
Experience working with professional directors, designers and choreographers.
Connect with friends, discover new skills and have fun!
Youth Theatre Times
14 - 19 years - Mondays - 7pm-8.30pm
11- 13 years - Wednesdays - 6pm-7.30pm
7 - 10 years - Wednesdays - 4.30pm-5.30pm


Fees are £35 per term and bursaries are available upon request
We are currently working online with our youth theatre groups until we are able to return to our studio. To receive more information about our youth theatre sessions please sign up for our newsletter or contact Louise Betts louise@travellinglighttheatre.org.uk.
We currently have a long waiting list to join the youth theatre for the 7-10 & 11-13 year groups and are therefore not accepting applications for the waiting list for these groups. However, for young people aged 14- 19 years, we are able to accept new registers of interest. Please access the online Register of Interest form here.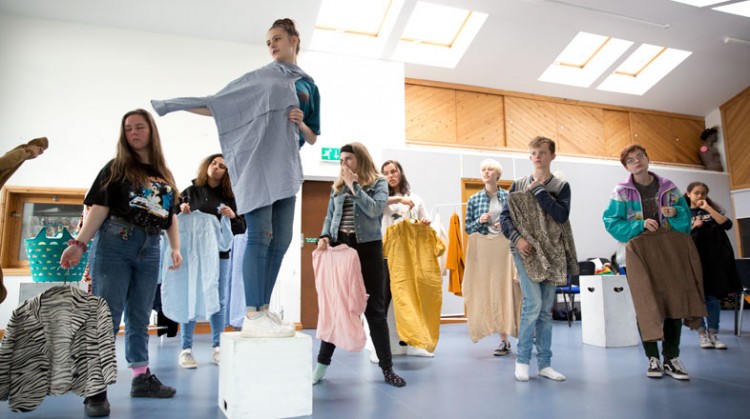 Travelling Light Youth Theatre rehearsal 2019
Photo credit Craig Fuller
Events and Projects
Be the first to find out about our young people's programme by signing up to our newsletter, and ticking the box to say you are interested in hearing news about our youth theatre.