20 Years of Youth Theatre - Q&A with Georgina Densley
Published on 4 May 2022.

In 2021 we celebrated 20 years of running our Youth Theatre groups in Barton Hill with a call out to former members and staff to get in touch to share their memories and stories.
This month we speak to Georgina Densley, who worked with Travelling Light for 7 years from 2012 - 2019.
What's your favourite memory of your time working with Travelling Light's Youth Theatre?
I always loved being in the office on a Monday, Tuesday or Thursday and the sound of footsteps small and big running down the ramp towards youth theatre.
I adored having the office door open and having children and young people dash in to see me before their session to show me new haircuts, lost teeth or tell me something exciting from their lives.
I have such affection for each and every one of them and think of them all often.
Can you tell us about any projects, performances or activities that you remember vividly or were particularly proud of?
I remember getting the grant confirmation for the initial Louder Than Words group. One of my career highlights has been seeing that group go from strength to strength and building and securing funding for it and it's follow on group ActionSpeak.
I also remember with fondness the Wapping Wharf project that united Bristol Old Vic Young Company, Travelling Light Youth Theatre and schools in South Gloucestershire with Bristol Archives and Museums and a brilliant team of mentors and creatives.
The ambition and scale of the project was a step change for Travelling Light Youth Theatre and performing to the public in a purpose built outdoor theatre was such a memorable achievement for the young people.
This project inspired future youth co-production with Circomedia and Tobacco Factory Theatres.
On a personal note it led to some of my most important friendships with other youth producers in the city and encouraged my ongoing ethos of promoting collaboration over competition with other providers of similar services.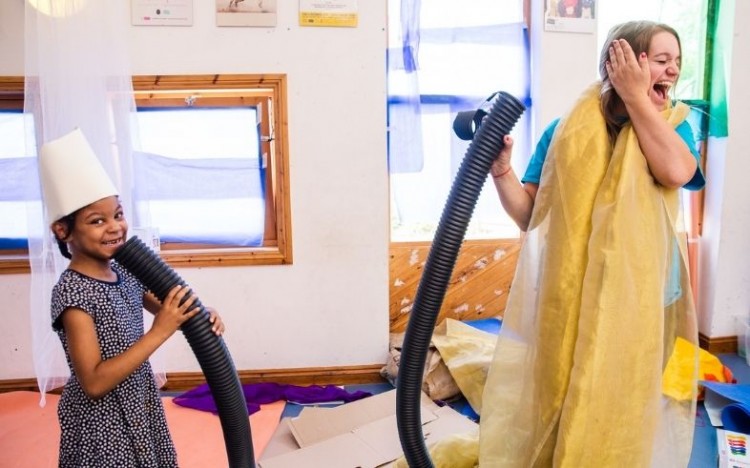 Inside Story 2019
Georgina playing during a session of free holiday activities for children in Barton Hill.
How important do you think it is for young people to have the opportunity to take part in youth theatre groups?
I think it is hugely valuable! Like any activity that sparks joy and belonging, I think that youth theatre has the potential to be part of shaping healthy, happy young adults.
Youth theatre has so many opportunities for children and young people beyond just that of performing. I hope that my children have opportunities like those at Travelling Light in the future.
What are you doing now?
I am currently freelance and working as a producer on Flibbertigibbet Theatre's early years show 'Babble' and producing a community arts programme for Theatre Orchard across North Somerset.

I am co-founder and joint leader of intergenerational and community arts organisation, Wyldwood Arts.
I am now a mum of two with a little boy aged 6 and a little girl age 4. I try my best to fill their lives with the kind of creativity and play that I learned from my time at Travelling Light.
Do you have a message for Travelling Light and Travelling Light supporters?
Keep supporting the brilliant and boundless potential of children's imaginations. The future depends on the freedom and playfulness they are able to bring with them into adulthood.
Help us continue to create exceptional experiences for young people in Bristol. Become a Travelling Light Friend - find out how.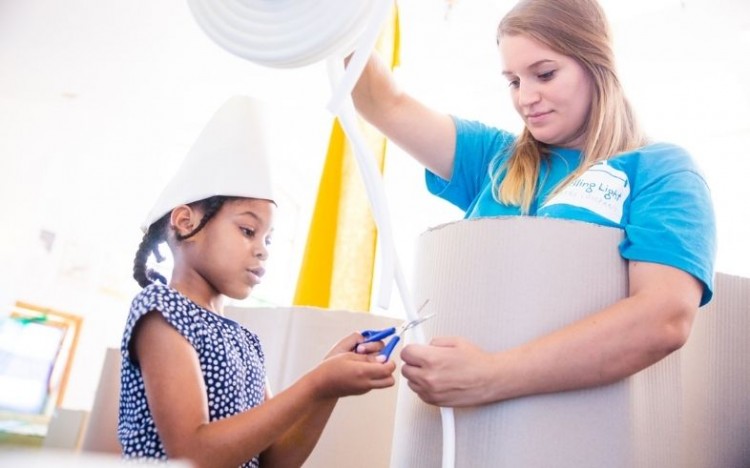 Inside Story 2019
Georgina working at Inside Story 2019 - our free sessions for children in Barton Hill during the holidays.