We #LoveArtsAward - supporting the creative development of young people
Published on 9th February 2021.

Each year our advisors support young people to complete their Arts Award and thanks to our successful delivery of the qualifications the awarding body Trinity College London has named us a Trinity Champion Centre 2020-21.
What is Arts Award?
Arts Award inspires young people to grow their arts and leadership talents: it's creative, valuable and accessible.
Young people take part in different arts activities, find out about artists and their work and share their arts discoveries with friends and families.
Arts Award can be achieved at five levels, four qualifications and an introductory award.

To celebrate Arts Award Week 2021 (8-12 February), we caught up with a few of the young people currently completing their Award with us.
Read on to find out more about the activities they have been doing and what they have found most challenging, enjoyable and rewarding about completing the qualification.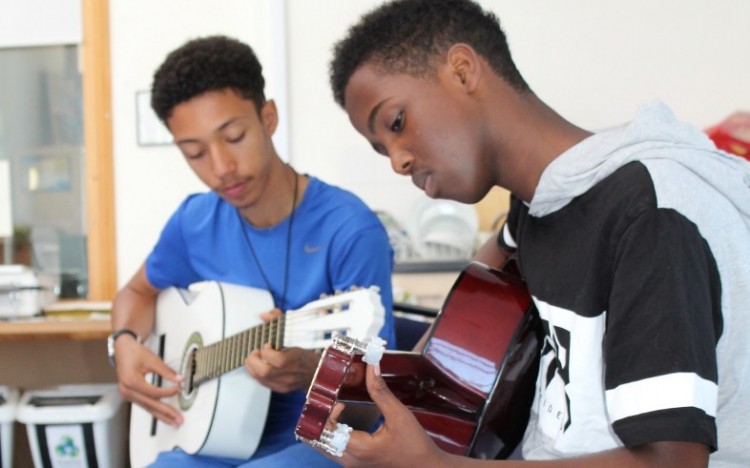 Arts Award students in 2018
Two students who completed their Arts Award with Travelling Light.
Sennen, Maisy and Sam began their Bronze Award online in November 2020 and are due to complete their Award this month.
Tell us about the activities you been doing for your Arts Award?
Sennen: I have been researching an artist, I watched a performance and I'm going to teach my mum the guitar.

Maisy: For my Bronze Arts Award I have been doing circus, researching into different famous actors and beginning to teach my sister piano.
Sam: I have watched a show, Private Peaceful, I've been researching an artist, taking guitar lessons and teaching my dad the guitar.
And what have you enjoyed most about working on your Arts Award?
Sennen: I am really excited for singing lessons.

Maisy: Bronze Arts Award has given me the motivation to do things that I wouldn't have done otherwise.

Sam: Learning about people's careers. I liked learning about my guitar teacher and talking to him. I found that interesting. I've talked to him before but not asked about his career.
What have you found challenging?
Sennen: Thinking of what to say in my recordings and how to put words together is hard for me. I have never recorded anything before so that was helpful and nice. It made it easier too - I don't connect with writing.
Maisy: This wouldn't be how we would normally do it, on Zoom. With coronavirus you can't do it in person. Learning a new skill – Part A – I found it quite hard to start that. I struggle to motivate myself and I knew the first go would be hard. The first session I found hard to push myself to do it and then it got easier. If there are lots of things you are interested in, or lots of things you want to get better at, or something you enjoy, it's hard to pick.
Sam: Coming up with all the different ideas is a challenge for me.
Has Arts Award given you opportunities to develop and learn new skills? If so, how?
Sennen: Yes – definitely. It totally has! I think doing something new is a new skill - like audio recording. You can listen to my audio recording here. For Part B, I had to explain the arts as an audience member and I chose to talk about Boing! [Travelling Light's production at Bristol Old Vic].
Maisy: Yes – I had to do a lot for my Cary Grant research. I had to email a lot of people and ask about stuff and sign up for things. So, it was actually really good as I was then sending a lot of emails to people I don't know. It gave me a lot of practice in doing that.
Sam: Yes - I guess when I was talking to him [my guitar teacher] and coming up with the questions I wouldn't have done that normally. It was quite awkward I guess and uncomfortable to come up with these ideas of what to say. So, I guess I have learnt that and am slightly more confident in things like that now.
And finally, can you describe your Arts Award experience in 3 words or less?
Sennen: Challenging, interesting.
Maisy: Fun, interesting, unique.
Sam: Fun, interesting!

If you are interested in completing Arts Award, subscribe to our e-newsletter (tick that you're interested in 'youth theatre') and we will keep you updated about opportunities to complete Award Award. You can also speak with us directly, contact Arts Award Advisor, Lizzy Stephens.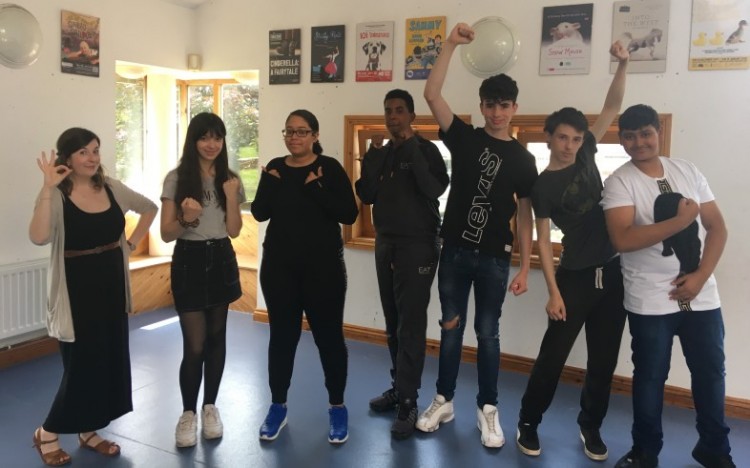 Arts Award participants in 2019
A group of students who completed their Arts Award with Travelling Light.