The Youth Theatre Showcase: An Investment in Creativity
This year's Youth Theatre showcase was bigger and bolder than ever before. Thanks to support from the Youth Investment Fund, which is funded jointly by the Department of Digital, Culture, Media and Sport and Big Lottery Fund.
The Youth Theatre showcase is always a highlight of Travelling Light's year. It is an opportunity for friends and family to come together and celebrate the amazing creativity taking place in our youth theatre workshops every week. Thanks to new investment in the programme this time the older youth theatre groups have worked with a team of professional artists to imagine, explore and create two entirely unique new shows about the worlds within them and around them.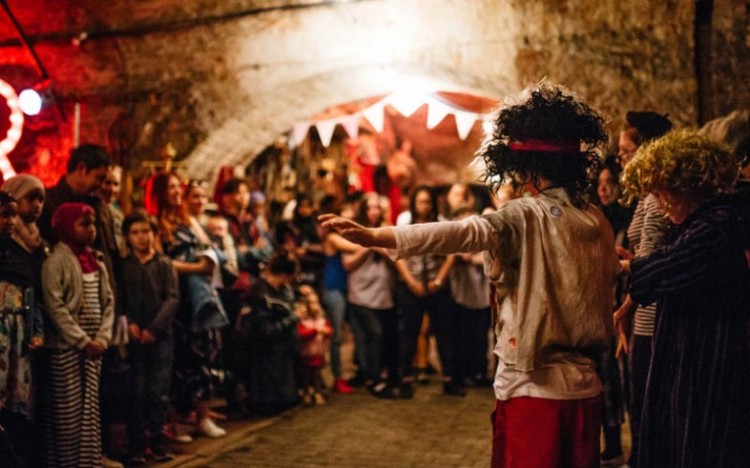 The Marvellous Imaginarium of Invisible Outcasts
The 11 - 13s welcome their sold out audience into the atmospheric tunnels
In the autumn the groups pitched ideas for productions to a panel of professional artists including a movement director, dramaturg, designer, composer and director. Over the next two terms the 33 local participants worked with members of the artistic team, developing characters, structure, music and design ideas in our weekly creative workshops.
As always at Traveling Light, the shows were inspired by how the young people see the world around them and within them and were devised by the groups themselves:
The 11-13s were interested in the different characters young people find within themselves as they grow up. The Marvellous Imaginarium of Invisible Outcasts was a vaudevillian extravaganza set in the mind of a child. Different acts competed for the audience's attention while the nameless child tried to keep everyone in balance.
The 14-19s show explored themes of friendship and loss. This Way Up followed workers trapped in a underworld bureaucracy where souls are filed, packaged and stored away. Here any act of rebellion leads to workers being 'demapped' where all personality and sense of self is lost, and all memory of them wiped from the worlds above.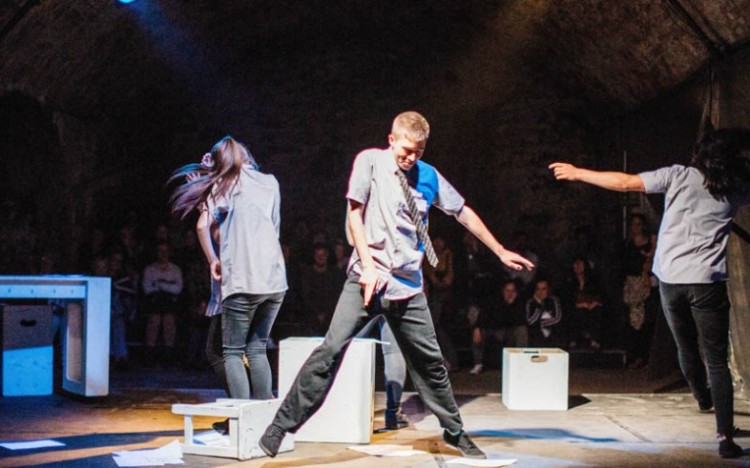 This Way Up
The underworld workers begin their rebellion
The groups' stories contained complex and nuanced themes from the young people's own thoughts and feelings about growing up. This project enabled participants to experience their ideas being developed and challenged in a supported, safe environment and see their voices and opinions being given the same weight as the professionals. As Zoe Squire who designed both shows said:
'It feels really equal, we are collaborating with the youth theatre as artists.'
The project culminated with the young companies being given the responsibility and resources to take their ideas to the next level and perform the shows in a professional venue: The Loco Klub Tunnels. Each sold out show was packed to the rafters with friends, family, community members and local artists.
This year's showcase has enabled the young company to work with a professional team, and see their visions realised on stage without any extra cost to the young people's families. Audience members said that the shows were 'inspiring, thought-provoking and captivating' while parents commented on the effect this project had on their child, saying that they had new friends, more 'empathy' or were 'generally happier and more outgoing'. One parent said 'My child is extremely shy but everyone has noticed how confident she is becoming'.
George Densley, Participation Director at Travelling Light said:
'Today I saw the best Travelling Light Youth Theatre Showcase ever. Young people being invested in, valued and expressing their ideas in a creative and nurturing way. I was so proud.'
We are delighted to be working with the Youth Investment Fund to continue to grow young people's imagination, skills and confidence with platforms like this here in Bristol.
The Youth Investment Fund also supports Travelling Light's free projects for young people in Bristol: ActionSpeak, Young Critics and Travelling Light Tasters. To help continue to create inspirational theatre experiences for young people in Bristol, become a Travelling Light Friend.