Returning to Travelling Light: A Youth Theatre Member Turned Volunteer's Story
Bradley joined Travelling Light Youth Theatre when he was eight, he has since graduated from a Theatre degree at university and now volunteers regularly with

our

Youth Theatre. We caught up with him before a workshop to find out what was it about his experience

at Travelling Light

which made him want to come back and volunteer.
How have you been involved with Travelling Light?
I began when I was 8 and left [Youth Theatre] when I was 16. It was really fun, Travelling Light was what drove me to do drama at GCSE, A-Level and eventually graduate at degree level. It was a very important part of my childhood and a very important influence on why I studied theatre at university, it has a special place in my heart.
Has anything changed?
Even though the staff have changed, I still think it's got a really great core mission getting young people involved in theatre especially in the local community. The mission hasn't changed. It's still about young people contributing their ideas and their ideas being used to create work. It's a collaborative process and that hasn't changed.
That's why I felt a need to come back and contribute in whatever capacity I could as a thank you for what Travelling Light did for me.
What was it about youth theatre which made you go on to study drama?
At school the curriculum presents restraints: what you can and can't do. Whereas at Travelling Light we got to explore so many different things and do very, very different performances and that was exciting.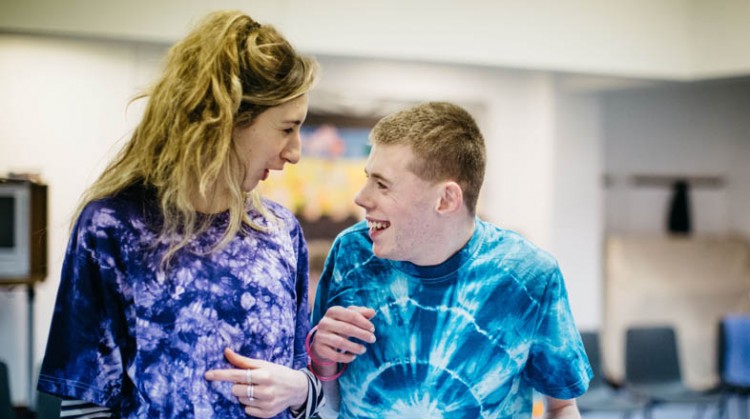 Bradley Volunteers with ActionSpeak, our Youth Theatre for young people with Disabilities, co-led with WECIL
In ActionSpeak "They get that space to build on those friendships and meet new people and they get to do that while having fun, playing games and creating stories. Which is brilliant.
What's your favourite memory of the Youth Theatre?
I remember one summer school (and Travelling Light still do free summer schools for local people) we created a story inspired by the Grimm Fairy Tales which we performed in different areas around Willsbridge Mill. We created Cinderella's ball in their barn and all the children who were participating and their audience and parents got involved and danced. It was amazing.
How have you found volunteering?
It's been really, really great. I've been volunteering with two very different groups, the 4-6s and ActionSpeak, the free group for 16 – 25 year olds with disabilities. Both groups are really energetic and we create really fun, interesting stuff together. Everyone is excited and lively and looking forward to it. At Travelling Light everyone wants to be there.
For those groups, for young children and young people with learning difficulties it's already an opportunity for them to form friends and you really see it in Action Speak. They get that space to build on those friendships and meet new people and they get to do that while having fun, playing games and creating stories. Which is brilliant.
Do you have a message for Travelling Light?
Thanks so, so much from the bottom of my heart to Travelling Light. If I didn't join Travelling Light's Youth Theatre, I think I would be on a very different path. Despite the challenges I've faced at university, I can honestly say I thoroughly enjoyed it all because I was doing something I was passionate about and something which I felt like I really excelled in. and I wouldn't have had the courage to do that if it wasn't for Travelling Light.
Brilliant volunteers like Bradley make the work we do in the participation programme possible. If you would like to find out more about volunteering visit our webpage or contact admin@travellinglighttheatre.org.uk.
Don't have time to Volunteer? Why not join the Travelling Light Friends it takes two minutes

to join

and helps us to continue the work we do creating exceptional experiences for young people in Bristol and beyond, find out how.