Paul Hamlyn Foundation funding to Light Up School Learning
Published on 4th May 2021.

We are pleased to announce we have been awarded funding in the latest round of Paul Hamlyn Foundation's Teacher Development Fund - one of ten organisations nationally.

The funding will enable us to support Bristol's teachers and school leaders to embed arts-based learning in the primary curriculum.
Awarded £108,500 over 24 months, we will work with five Bristol schools, supporting teachers to explore how drama-based learning can develop language, speech and emotional literacy, support wellbeing and address inequality of opportunity which affects educational outcomes.
Light Up School Learning: An Arts-based inquiry
The project, Light Up School Learning: An Arts-based inquiry, will run from September 2021 – July 2023.
We will work with teachers and artists to expand teachers practice and to embed drama into the wider curriculum. The approaches developed will support pupil's confidence, learning and their ability to express feelings and aspirations.
Lizzy Stephens, our Creative Learning Officer and Project Lead, said:
"We are absolutely delighted to have been awarded this funding to work more deeply with our partner schools in Bristol. We are looking forward to being able to explore and measure the impact of drama-based activity, experiment with new blended approaches and broaden the opportunity for knowledge exchange and learning amongst teachers and artists. It is an exciting opportunity to really embed drama into teaching practice and build a strong school culture for the arts."
Partner Schools
We will work with our partner schools, Brunel Field Primary, Victoria Park Primary, Redfield Educate Together, Merchants Academy and Hannah More Primary.

The project will develop teachers' confidence in using arts-based practice in their everyday approach. Insights and learning gained will also be shared with other schools.
Richard Croughan, Music and Drama Lead at Brunel Field Primary School, said following the announcement:
"Travelling Light has been instrumental in embedding a whole-school culture of arts teaching at Brunel Field. We have worked with them for the last five years and have together designed and developed an Arts Days package which, at its very heart, is intended to grow and sustain children's interest in and love of the arts as well as nurture teachers' understanding and trust in the power and efficacy of using theatre and the arts throughout the curriculum.
We continue to see how music, art, dance and drama help unlock the curriculum for more of our children - it is a language, a communication tool, a safe and nurturing way to access subjects from English and history to maths and French; it offers children so many more tools in a time where 'pupil voice' has never been more important. It feels very exciting to work with Travelling Light on a project that aims to foster these ideas across more Bristol schools."
We look forward to sharing more news about the project as it develops over the next two years.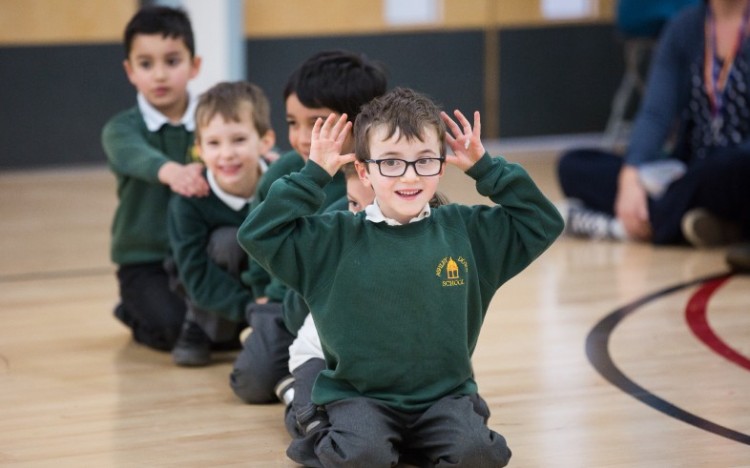 Pupils involved in one of Travelling Light's Arts Days
-
About Paul Hamlyn Foundation

Paul Hamlyn Foundation (PHF) was established by Paul Hamlyn in 1987. He died in 2001 and left most of his estate to the Foundation, creating one of the largest independent grant-making foundations in the UK. PHF use their resources to support social change, working towards a just and equitable society in which everyone, especially young people, can realise their full potential and enjoy fulfilling and creative lives.

The Teacher Development Fund supports delivery of effective arts-based teaching and learning opportunities in the primary classroom, and to embed learning through the arts in the curriculum. It aims to do this through supporting teachers and school leaders to develop the necessary skills, knowledge, confidence and experience. You can find out more about the Paul Hamlyn Foundation here: https://www.phf.org.uk/