Louder Than Words - catching up with Nathan and Rebecca
Published on 28 July 2021.

Louder Than Words is Travelling Light's unique drama group for disabled young people aged 7+.
Each week young people have fun, make friends and learn new skills in drama, music, storytelling in a supported and friendly environment with a team of experienced practitioners.
We spoke to participant Nathan and his mum, Rebecca, to find out what Nathan enjoys most about attending the sessions, some of his favourite activities and what they value about the group as a family.
What do you love about coming to Louder Than Words?
Nathan: "It's a nice break from everyday life. It really helps a lot with dealing with life and school and the workload I get. It's fun just to act."
How does it make you feel coming to Louder Than Words?
Nathan: "Happy! I usually don't have a lot of energy because school takes a lot out of me."
Can you tell us about some of the things you get up to at Louder Than Words?
Nathan: "A lot of running around! Arts, crafts. A lot of creating and acting. A lot of games which is quite refreshing to do."
What's your favourite thing?
Nathan: "I think it would have to be expression. Expressing myself in various forms. Not just acting but drawing, writing, even photographs from time to time, it's fun!"
What do you like about being able to express yourself?
Nathan: "I feel like with expressing myself I can get a lot out of my head that has just been there for weeks and months and it's nice and relaxing. It just gets a lot of things off my chest."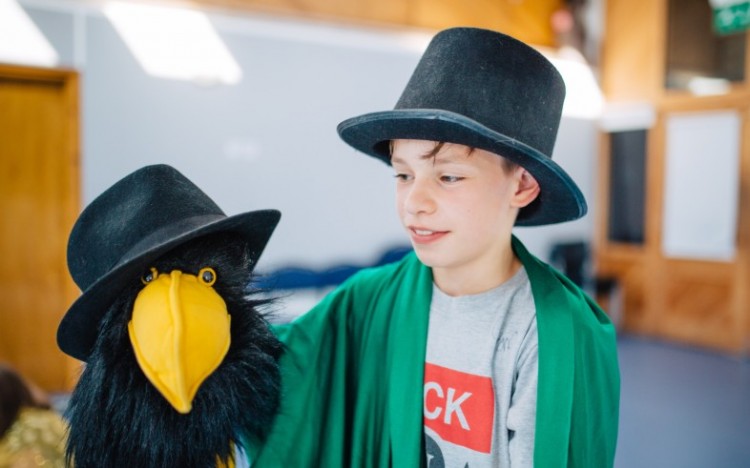 Nathan with Mr Crow
Nathan performing with Louder Than Words - June 2018
And Louder Than Words is a very creative space to do that as well. Are there creative things that help you do that?
Nathan: "A lot of the props. The props help. Like the puppets."
What do you like about using the puppets?
Nathan: "I find them fun. I find them expressive. I used to watch a lot of the muppets and I find it amazing how much expression can be done with what is essentially just a few bits of felt stuck together."
What's it like being in a group in Louder Than Words?
Nathan: "It helps us to see other people's points of view and how it aligns with yours and it's fun to act with a large group, so it's not just you flailing your arms about in various forms."
Tell us what it's like making the shows. How do we come up with the ideas?
Nathan: "It's usually stuff that we make, or we do over the course (of the term) that we pick and we think that would make a good little movie or show."
So do you think some of your ideas have been used?
Nathan: "Oh yes, definitely. I think with the whole Mr Crow stuff I did. It had a lot to do with music and different types of sounds that Sophie (lead facilitator) would play and we would improvise to. That's the best way of describing it. I think that's how a lot of the scenes are developed. And there were lots of arts and crafts in that one, as there were a lot of backdrops that we made, which was nice." You can watch the film Nathan is referring to here - The Mysterious Case of the Missing Voice.
If you could describe Louder Than Words in 3 words, what would they be?
Nathan: "Imaginative, fun and chaotic – as everything always seems to happen at once."
Watch our latest film
Nathan and other members of Louder Than Words and ActionSpeak discuss what they enjoy most about attending, alongside insights from the facilitators.
Why do you think Nathan enjoys coming to Louder Than Words?
Rebecca: "I think because he can express himself however he feels, and everything is accepted. He doesn't have to conform at all. He can just express himself. Obviously, there are limits but there isn't anybody criticising everything he does when he does things out of the ordinary. It's much more accepted than it often is in other groups and settings.
Nathan has been to quite a lot of mainstream groups in the past. Some of them have been great but others it feels like you're explaining things all the time. He comes here and he's just part of the crowd and whatever he does is fine. And he can be himself without worrying about not being himself."
What do you value most about Louder Than Words?
Rebecca: "I think it gives Nathan an outlet for his creativity. He's a creative person but he sometimes finds it hard to find a channel for that creativity. But all the practitioners here know how to tap into his interests and help him to express himself."
...................

Find out more about our Louder Than Words group on our Take Part page.
Can you support our fundraising campaign? In summer 2021 we are fundraising to support ActionSpeak and Louder Than Words from Autumn 2021 onwards. Find out more.