"It's the best training I have had in the last fifteen years."
(Comment from a teacher who has been involved throughout the two year project; Nov 2022)
Light Up School Learning (LUSL) was a two-year Continuing Professional Development Learning project, which aimed to develop arts-based teaching in schools, funded by the Paul Hamlyn Foundation Teacher Development Fund.

The project, which ran from September 2021 – July 2023, was led by Travelling Light and involved artists working alongside teachers from five primary schools across Bristol.

The central focus of the project was to explore three key inquiry questions:
How effective is this model of arts-based delivery in developing teachers' practice?

How can arts-based learning improve pupils' oracy, emotional literacy and wellbeing?

How has the project led to a cultural shift within the whole school and its approach to the arts and arts-based teaching?
Independent Evaluator Dr. Elaine Faull was commissioned to evaluate the impact of project. The evaluation was extensive, using qualitative and quantitative data, involving artists, teachers, pupils and members of the School Leadership Teams, including Headteachers and including semi-structured interviews, questionnaires, observations and reflection sessions.
You can read the Executive Summary here.
To read the full report or if you would like to discuss the project with us in more detail, contact us:
admin@travellinglighttheatre.org.uk
Light Up School Learning
A short film about Year 2 of our Light Up School Learning project.
Summary of activities over two years:
5 Bristol schools started the project - 4 schools remained throughout the 2 years. 1 school left in November 2022.



35 teachers took part in the project - with a mixture of experienced and early career teachers.


35 classes of children were involved in the project - children from across the age groups were involved, ranging from Year 1 through to Year 6.



We delivered 5 Arts Days for the whole school in Autumn 2021 - involving all teachers.



Over 1700 children participated in at least one element of the project. This includes children who participated in Arts Days, with each school having an Arts Day at the early stages of the project. Over 900 children have been involved in the classroom-based element of the project with artists and teachers for at least a term.



8 artists were involved in the delivery with teachers.



Artists delivered 408 sessions in school, this included 56 observations (artists observing teachers in class) 25 planning sessions, and 327 sessions of artists and teachers working together in the classroom. Artists also facilitated 12 staff meetings – 3 in each school in year 2.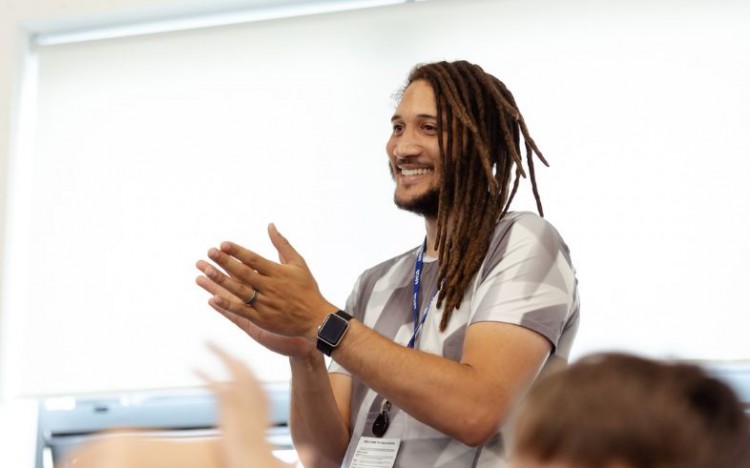 Light Up School Learning
A teacher leading a session during our Light Up School Learning project.
Impact on teachers
"Using creative activities brings learning to life." (Teacher comment: March 2023).
All teachers reported their confidence in using drama-based strategies had grown from working with the artists.
This was particularly the case for Early Career Teachers and Apprentice Teachers, where the impact was significant:
"As an unqualified teacher in training it has been immense – the best CPD I have had. I've learnt how to plan; I've learnt about strategies which I can apply straight away; it's also been really good for the children's retrieval. It has come at the right moment for me." (Apprentice Teacher, Teacher Reflection Day: March 2023).
Embedding arts-based practice into teaching
By the end of year two, teachers from all schools reflected that the project had developed their confidence using drama-based techniques in their teaching across a range of subjects.
Impact on Pupils
"It helps you learn. It makes you curious and eager to learn. It helps me remember." (Comment from a Year 4 pupil: July 2023).
The use of drama-based activities was found to improve pupils' learning.


Teachers, artists and pupils reported improved confidence, oracy and wellbeing, as well as enhanced recall of knowledge and concepts.


Where teachers reported arts-based approaches were used, pupils' retention of learning and understanding was significantly enhanced. This was particularly the case with children living with trauma.


Teachers reported improved writing outcomes following LUSL lessons.


The impact on pupils' self-confidence had a longitudinal benefit, even when pupils had not been part of the project beyond the first year. Pupils from Year 1 reported retaining their self-confidence, improved oracy and enhanced group skills. They appreciated being part of the LUSL project as it helped them build their confidence and social skills as a result of the impact of lockdowns and feelings of isolation as a result of the Covid pandemic.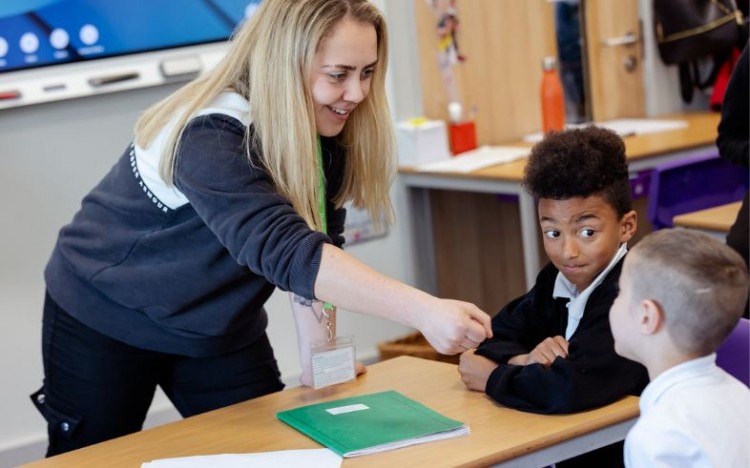 Light Up School Learning
Two pupils taking part in a drama based activity with their teacher during our Light Up School Learning project.