Kitchen Circus - catching up with the artist and the family
Published on 14th October 2020.

Over the last few months, we have been working with local artists and families in Bristol to develop creative and artistic projects within their own homes.

This is an ongoing collaboration between three Bristol neighbourhoods and organisations, Travelling Light (Barton Hill), Cirque Bijou (Easton) and Knowle West Media Centre (Knowle West).
Through drawing, storytelling, music making and other creative tasks the families have been exploring the place and the community they call home.
At this time, this project seems more vital than ever, allowing space for families and artists to develop creative work together within the home and facilitating time for reflection on the importance of family and community.
Earlier this month we held an outdoor sharing and celebration of this work.
We caught up with Mike Akers, one of the artists, and Catherine Guy from the local family in Barton Hill that he worked with, to find out more about the activities they worked on, their experience and what they enjoyed most about the project.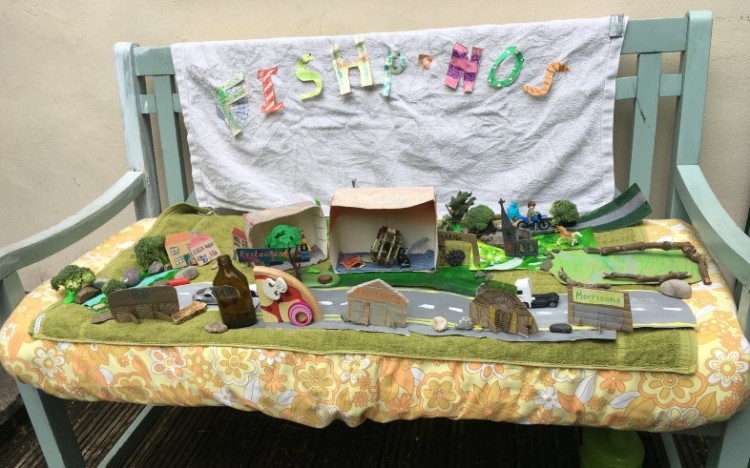 3D model
A model created during the Kitchen Circus project.
Tell us about the creative activities you took part in as part of the project?

Mike:
"We worked together on collaborative activities, where we exchanged ideas and creative provocations online. The theme for the project was home and of course because the project took place online, we were in each other's homes. The idea of getting to know a bit about our respective home lives and the areas we live in became the inspiration for lots of the things we did."

Catherine adds, "We played games with Mike. These included creating and playing board games, drawing challenges, finding and photographing special objects around the house, describing our homes and neighbourhoods and then making drawings and 3D maps. One activity involved giving each other a record cover for an imaginary band and then writing and recording a song for the band."

Mike:
"Eventually, as restrictions eased, we were able to meet outside. The family took me, Leeza (poet) and Luke (musician) on a walk round Barton Hill and the Netham. Later they came up to Fishponds where I live and I showed them around my area, including a trip to my allotment. We also started making a collaborative story, writing a chapter then passing it on for the next chapter. It's become something of an epic which we are hoping to record as an audio book when complete."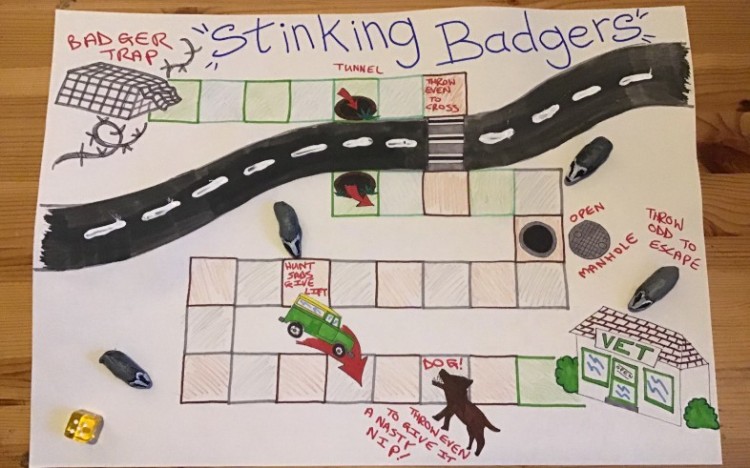 A board game
Created by the family as part of the project.
What did you most enjoy about the project and the experience?
Catherine:
"We really valued the chance to work with Mike again. My son Harold says he most enjoyed writing the book, and playing the games, and doing the music." Referring to the activities and challenges that Mike set as part of the project, Catherine adds, "we were pleased and surprised to finish some of the challenges."
Mike:
"I loved working on this project. The family were incredibly open, enthusiastic and creative, so it was great fun to be a part of. It was great that we were able to meet up in person in the end and it's amazing to visit another part of town and see it through the eyes of someone who lives there.
I was worried beforehand about the online aspect as it's not something I had any experience of. In fact, it turned out to be a really interesting way of working and I think it created a different relationship, where we had a more genuine connection and exchange. My own kids got involved with making the plays and board games, so it felt like we were connecting as two families coping with the challenges of lockdown together during those sessions."

Did you discover anything about your home or community that surprised you?

Catherine:
Introducing other people to our area was a reminder to us of some of the things we like about this area - the people, the creativity, diversity, and cultural richness, and the parks."
For Mike, the process has helped him overcome his anxieties about working remotely and online. He says "the weekly meetings with the other artists working on the Kitchen Circus project were an invaluable source of reassurance and understanding". And adds, "I like working on Zoom now!"


A short film of the project is currently being made, which we will share on our website and social media channels as soon as it's available.
Can you help Travelling Light to keep providing creative opportunities for children and young people?

Become a Travelling Light Friend or donate today to help us continue to support young people with creative activities.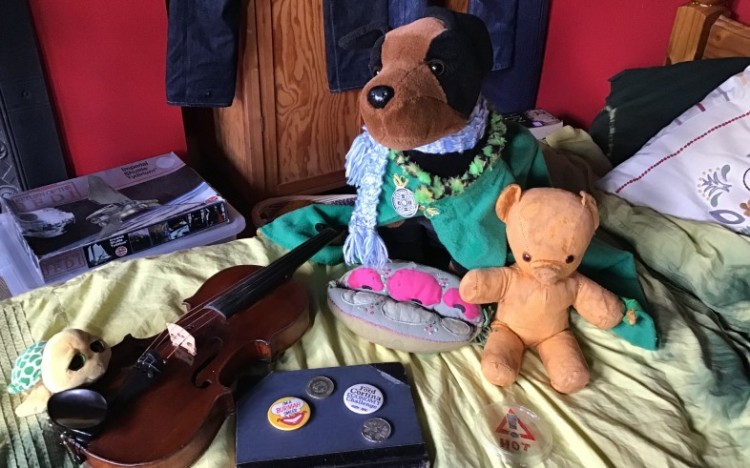 Kitchen Circus
A photo from the project taken by the family.