Inspiring children and young people through storytelling and creativity
Published on 13th January 2021.

Throughout 2020, we continued to provide opportunities for children and young people stay creative and to experience great stories. Here's a few of the things we got up to before Christmas:
Igloo Storybook – a free gift to children and families at Christmas
Christmas is a time for stories and each winter we usually share our Travelling Light Christmas production with children, through free theatre trips and community performances. But in December 2020, due to Covid-19, we were unable to invite audiences to see performances, and we knew that digital deprivation meant not everyone could watch a show online.

Instead, we worked with designer Edwina Bridgeman to create an illustrated storybook, inspired by our winter show, Igloo, a co-production with Bristol Old Vic.

We launched a fundraising campaign to help us print and deliver as many Igloo storybooks as we could to children and families in Bristol as a free gift.

Thanks to the generous support for our campaign we raised £2,700, enabling us to offer this special gift to 1,700 children and their families in our local community. We worked with 17 distribution partners, including our local children's centres, foodbanks and nurseries.

With thanks to all the generous individual donors, National Lottery's Awards for All and local businesses Vanguard Self Storage and Doveton Press for their support of this campaign.

"We really appreciate this kind gesture. It has come at the right time when we need it. Thanks for your continuous support." Parent from St Luke's Lunch, Barton Hill.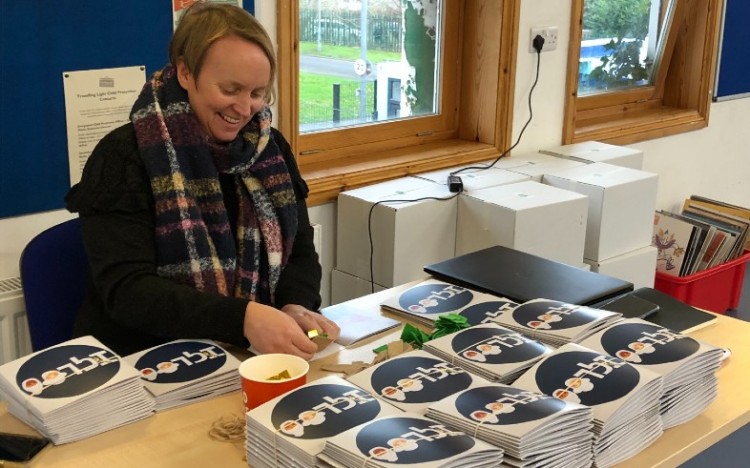 Igloo Storybooks
Louise adding some final touches to the storybooks before sending them out for distribution.
Boing! schools tour
In December 2020, we took our award-winning Christmas show Boing! on a schools' tour (online!).
Between 7th – 18th December, children from 8 schools and children's centres in Bristol sat down to enjoy the performance, which was filmed at The Unicorn Theatre in 2017. Each school received an activity and story pack, and they were sent a private link to watch the show. The packs contained lots of activities to support teachers with their curriculum teaching, as well as providing some fun, creative learning for pupils.
Feedback from the schools and the pupils has been wonderful. In many schools, all classes from year 1 – 6 sat down to enjoy the show and absolutely loved it. In one primary school alone, 691 pupils aged 5 – 11 years watched the show, with the (online) tour reaching over 1,600 children.

"It was a fantastic enriching experience that our children loved. Thank you!" Filton Avenue Primary School

"We really enjoyed it - I know reception watched it twice!" Frome Vale Academy

"It was lovely for the children to experience a theatre show without having to take a trip there in the current climate." Oldfield Park Infant School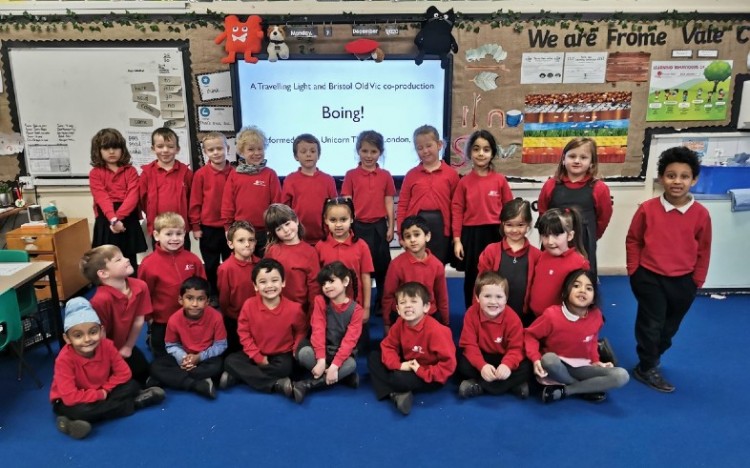 Frome Vale Academy - Year 1 students
"We had a wonderful afternoon watching 'Boing!' – thank you for this great opportunity."
Arts Award online
As the dark nights drew in last Autumn we offered children and young people the opportunity explore the arts and their creative interests whilst working towards an award at the same time.

Since November we have been delivering both Discover and Bronze Arts awards, with 2 children achieving their Discover Award and 4 children currently completing their Bronze Arts awards with the support of our Arts Award advisors.
ActionSpeak and Louder Than Words online
We ran a term of weekly ActionSpeak and Louder Than Words sessions online throughout Autumn 2020, providing support, routine and a creative outlet for our theatre groups for children and young people with disabilities and additional needs. Find out more about ActionSpeak and Louder Than Words here.
New Year, New Opportunities
This month we are launching a new series of online sessions for our 7-10's Youth Theatre and masterclasses for our 11-19's, and they are open to all, not just members.
If you have a child that would like to try out youth theatre and do something fun and creative during lockdown, this is their chance. Find out more here.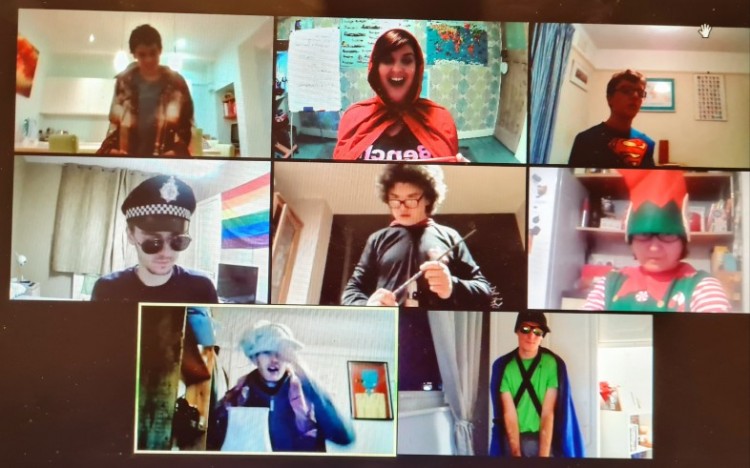 ActionSpeak online
Angie leads an online panto session with ActionSpeak members.