Igloo Storybook – our gift to children this Christmas
Published on 11th December 2020.
This Christmas we have created an illustrated storybook to distribute to children and families in Bristol as a free gift.
Each winter Travelling Light shares its Christmas production with children, through free theatre trips and community performances. But this year due to Covid-19 it has not been possible to invite audiences to see performances and digital deprivation means not everyone can watch a show online.
That is why we have worked with designer Edwina Bridgeman to create a special book, inspired by our winter show, Igloo, a co-production with Bristol Old Vic. The original show is wordless, and this book also tells the magical story through illustrated pictures, with no words.
We caught up with Heidi, our artistic director, and illustrator and designer, Edwina, to find out more about the inspiration for the book and the process of adapting it from stage to page.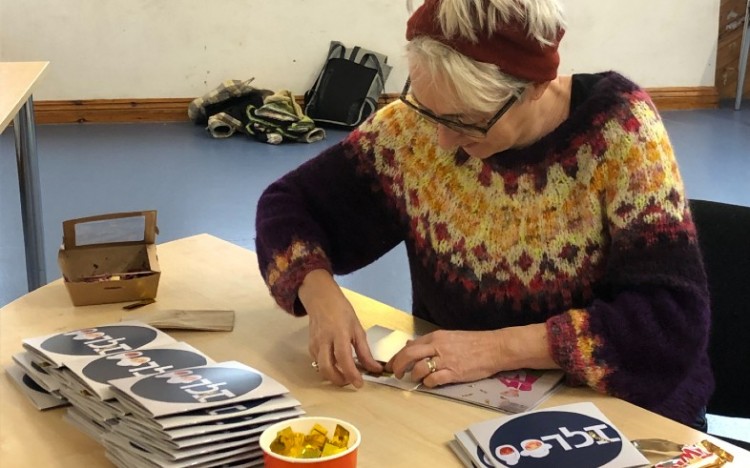 Edwina Bridgeman - illustrator and designer
Edwina adding some final personal touches to the books in our studio.
What was the inspiration for the book?
Heidi:
The book was inspired by our original production of Igloo, which we created as a co-production with Bristol Old Vic in 2018. It is an early years play set in the season of winter when two children are longing and waiting for snow to come in order to build an igloo. And sadly, what happens is the snow doesn't come but they find something much more glorious within their play inside their own home.

At a time when children have been stuck in their homes much more than usual, Igloo felt like a really fitting story to place from stage to page.
Why do you feel that this offer of a free gift is particularly needed right now?

Heidi:
Here in Barton Hill we are very aware of some of the digital deprivation within our local communities and I think we are all as theatre makers and storytellers trying to find ways to tell our stories at this time. We've noticed that there are lots of children that do have access to digital resources but there are plenty of children, often within our direct community, that do not have access. So in a time when libraries aren't open and the chance to borrow stories and return them aren't there, it felt really apt that we could give them a gift during this season of a story to be enjoyed within their own home, whether they have digital access or not.
How did you go about adapting the theatre show into an illustrated storybook?
Edwina:
Through conversation. The experience of it originally being a devised show and being devised in rehearsal as a company, means that Heidi and I know the show incredibly well because we've been there since its formation. So it felt very comfortable to change it from a show into a book.
We realised quite early on that there were elements that worked in the show, which we would need to highlight in the book for the story to make sense. So when we talked about beats in rehearsals, if there was a beat missing from one section to the next, it was exactly the same with making the book, there might have been a beat missing between the pages so we'd look back and see what needed to be filled in. It was a really lovely process actually, but it couldn't have come without the show.
Heidi:
The original devising process was an active collaboration between children and the company, so much of what is found within the story is directly from some of the workshops and play activities that we ran with children. This made those young qualities really present in the story.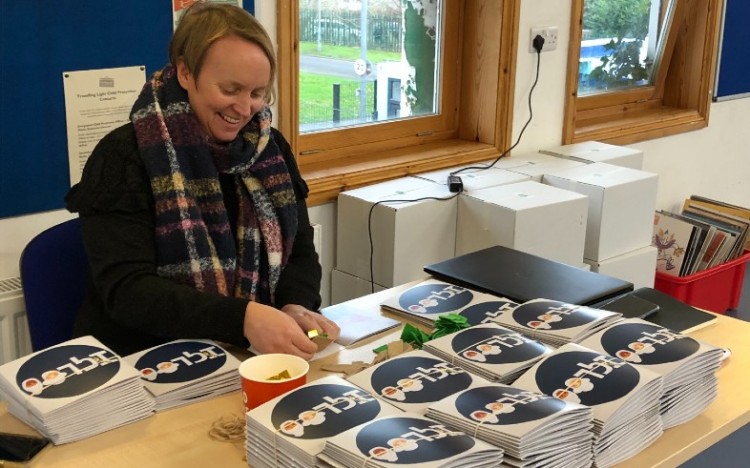 Louise Betts
Helping in the studio with the final touches before the books go out for distribution with our partners.
What was the biggest challenge in adapting it?

Heidi:
The biggest challenge was the fact that it's not a piece of theatre and there were some things that didn't translate from physically being in a room together where you can hand props out. It's quite a physically interactive show and the performers are all the time in silent conversation with our audience members so those things couldn't happen – the physical handing out of mats, the physical handing out of the ribbons, the space for play at the end. We had to find ways where that could be translated into the page. However, there are some things that have become clearer I think – things that I feel have landed better in the book. At the beginning of the play, unless you had read the description of the show beforehand, there's a kind of ambiguity about what the characters are waiting for. On this, it feels there's much more clarity in the book.
What do you hope the children will enjoy about the book?
Edwina:
I hope they will recognise something of themselves in the pages – that it feels authentic – about how children play and the dialogue between siblings. Seeing something of themselves and recognising playfulness, frustration and how they combine.
Heidi:
I really hope they enjoy the illustrations. I think the work of Edwina is exceptional and there's so much space and breadth to imagine, create and allow your own imaginative journey around those images. They are so beautifully crafted. It's a real delight visually and they can create their own script alongside every page. It's not a book where the reader has no agency. It's very much a book where children can create their own stories inspired by these beautiful images.
A message for those donating or considering donating?
Heidi:
For those that have already donated, thank you! We cannot do this without your support.

Those that haven't yet donated but are considering it, I cannot stress the demand that has come forward from the community for this. This is not a project based on ego or ambition, it's completely based with the need for human connection and stories at this time. Please do donate what you can so that we offer this free gift to as many children as possible.

Donate here to support our fundraising campaign to give a magical seasonal story to children this Christmas.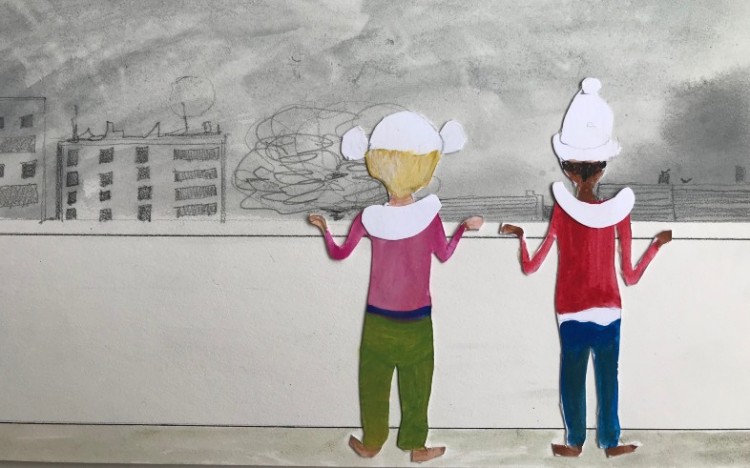 Igloo Storybook
An image from the 28-page storybook, illustration by Edwina Bridgeman.