Igloo community shows leave young audiences captivated and mesmerised
During our recent tour of Igloo we presented 9 free community performances for local families who might not usually access creative opportunities. The performances took place in 3 different venues, at Trinity-Henleaze URC Bristol, City Academy Bristol and White Horse Country Park, Wiltshire.
It is such a joy to see the reactions of young children, many of whom are experiencing theatre for the first time.
Throughout the feedback, the words 'mesmerised' and 'captivated' keep appearing – the babies and toddlers are captivated by the experience.

As one carer from a local nursery wrote:
"Amazing to have so many young children captivated for so long".
"It was so visual and stimulating but gentle and soothing at the same time – a clever balance".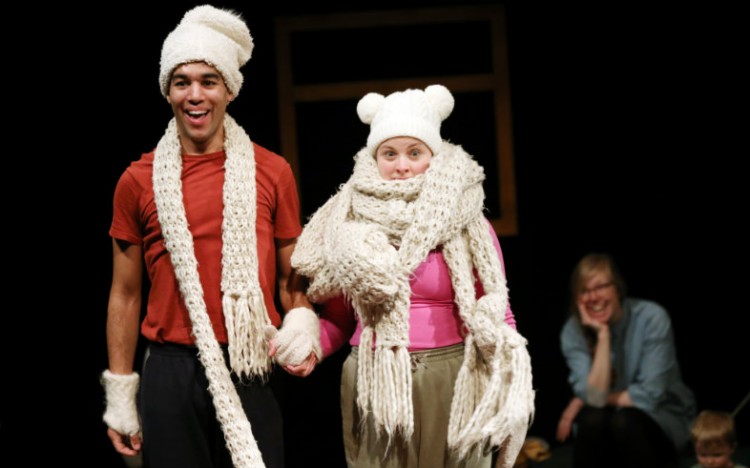 Igloo at Stratford Circus
Alex Stedman and Megan Vaughan-Thomas performing in Igloo.
Here are some of our favourite comments:
"Really enjoyable, never known the one year old to be so enthralled for so long!"
"Beautiful – a real sensory masterclass in captivation! We loved it! Thanks for the experience."
"Lovely, gentle, inclusive. Really nice concept to be non-verbal and such a relaxed atmosphere, so the kids are free to react naturally".
"FANTASTIC! My daughter (8 months) loved it – mesmerised & sat still watching in a way I've not seen before! I equally loved it. The actors non verbal emotion & sensory stimulus was excellent!"
"Lovely sensory interactive experience – both boys (age 2.5 years & 4 months) were mesmerised".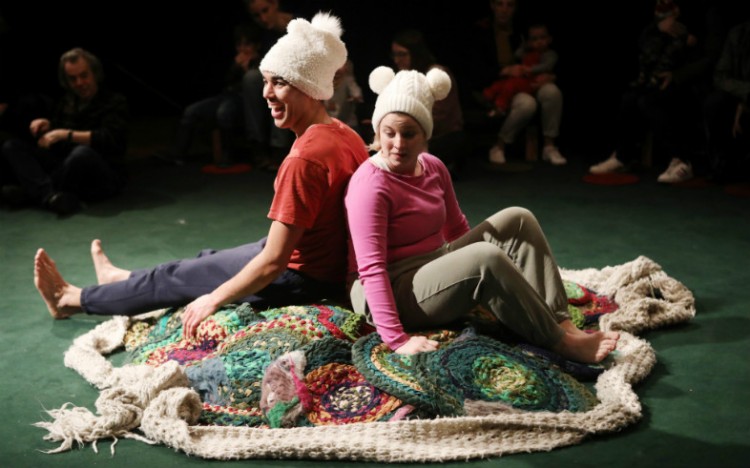 Igloo at Stratford Circus
Alex Stedman and Megan Vaughan-Thomas performing in Igloo.
The community performances were part of a larger national tour. For more details, visit our Igloo tour page.

Our community performances are made possible by the generous support of Travelling Light Friends and supporters. If you would like to help us continue to offer free community performances for children and their carers who might not be able to access creative opportunites and performances, visit our Friends page.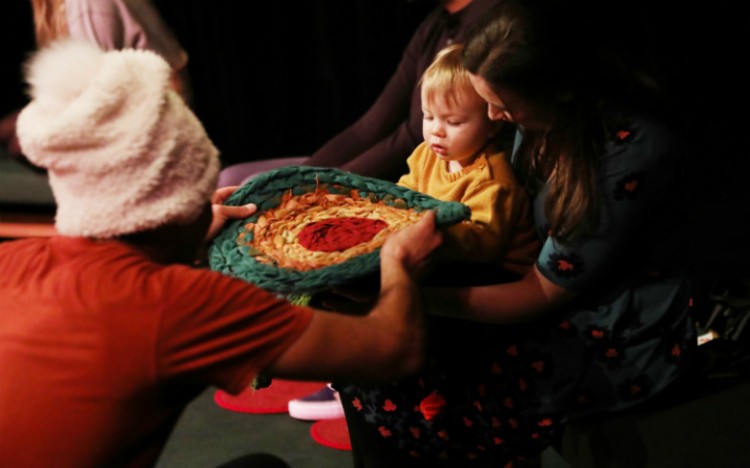 Igloo at Stratford Circus
Alex Stedman with a young theatregoer during Igloo.