Family Theatre Day: Back by popular demand
Travelling Light and University of Bristol welcomed over 200 local people

for a day of fun performances and creative play in Travelling Light's home in Barton Hill, Bristol.
Our second ever Family Theatre Day offered families the chance to enjoy four fantastic student performances, created especially for them. The shows were devised by University of Bristol Theatre and Performance students, as part of their Applied Theatre Module. Travelling Light were delighted to support this by delivering a number of workshops in preparation for the student performances.
Between shows families enjoyed the fun activities arranged by Travelling Light's Youth Board, to raise funds for the #YesLet's Appeal. The Appeal aims to raise £50,000 to invest in childhood in Barton Hill, Bristol and Beyond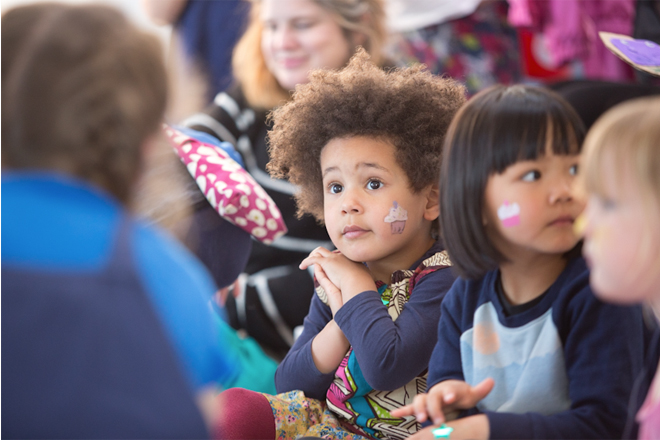 Family Theatre Day
Over 200 local people enjoyed the performances by University of Bristol Students
The Youth Board, a team of brilliant young people, elected to represent Travelling Light Youth Theatre's thoughts and opinions wantedto make a day which was both fun for families AND kind to our planet; so we offered recycled craft activities, face painting and served delicious cakes and treats made by Youth Board Members. These went down a storm and the team raised a fantastic £266 for Yes Let's!. all donations received before 31st August, this will be DOUBLED Thanks to the Arts Council's Catalyst Programme, meaning the Youth Board raised a fantastic £500! For more information about other Yes Let's events and how you can get involved visit our Appeal page.
The students created their performances after a term of investigating and interrogating theatre for young audiences during their Applied Theatre module. Lizzy Cummins, Creative Learning Officer at Travelling Light, who has been a guest lecturer on the course for two years said:
"It is a fantastic opportunity for the students to perform their shows in front of a live audience of children and their families; rather than purely for an exam. Here students can see children reacting, laughing, or running onto the stage; which helps them to grow and adapt the show in real time. It is also great to get them interacting with a local company, out of their department and into parts of the city they have never been before, developing their practice. Students get to see the difference their show makes to people's days: the studio was full of people smiling and laughing. Lots of people popped in to see what was happening and ended up staying for hours. It might be an exam but it's also a valuable learning experience and a really rewarding day."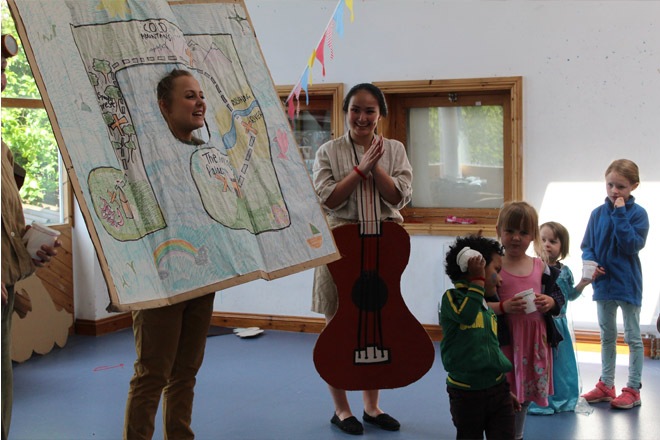 University of Bristol Performance
The students transported us to a world deep under the sea, to a magic post office, to outer space and to a land where instruments could talk (pictured).
Travelling Light would like to say a big thank you to University of Bristol Temple Quarter Enterprise Campus for supporting the day, all the University of Bristol staff and students who took part, our fab Youth Board, our kind Yes Let's Appeal donors and everyone who joined us to make this year's Family Theatre Day the best one yet!