A day full of creativity and imagination - Youth Theatre Showcase 2020
On Saturday 22 February 2020 we presented a full day of performances at Barton Hill Settlement.
The Travelling Light studio and spaces around the Settlement were buzzing with activity, as we presented devised performances by all five of our youth theatre groups.
Over the previous few months, the groups had been working with our team of talented facilitators, assistants, volunteers and artists to devise the pieces being performed.
The day began with Louder Than Words inviting audience members to step inside The Magical Toy Shop of Dreams, to be transported to a place where their imagination could run wild. Including a short performance by the group, they had also given the space a wonderful makeover, and invited audiences to explore, participate and unleash their inner child.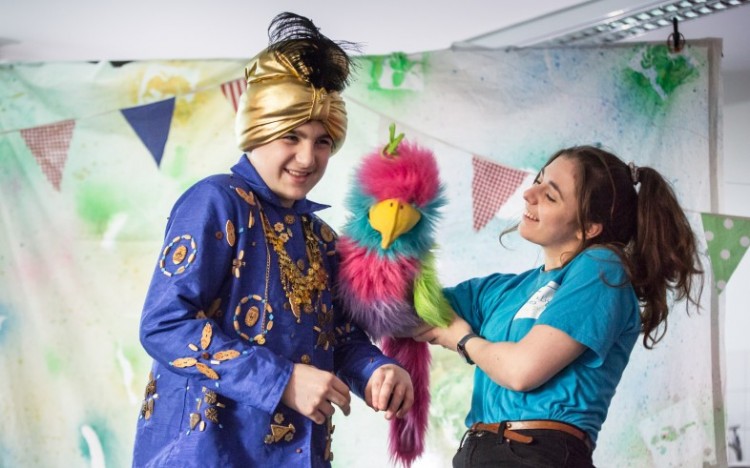 The Magical Toy Shop of Dreams
Louder than Words performing in A Magical Toy Shop of Dreams. Image by Camilla Adams.
Next up, we joined a band of time travelling storytellers for 'Troubadours, Storytellers and Me' by ActionSpeak. Audiences were invited into the courtyard for songs and dance before moving into the Travelling Light Studio, as ActionSpeak took the audience travelling through a magical world of fairy tale, from 'God's and Goddesses in Ancient Greece' to a very special edition of 'Travelling Light's Got Talent'.
Performing to a packed studio (standing room only), the group explored tales they wanted to tell, through ensemble work, devising and storytelling, using film, song, dance, puppetry and a lot of laughter.
After a quick lunch break, audiences headed upstairs to enjoy a fantastic performance from our youngest youth theatre participants, the 7-10's. Performing 'A Superhero is only a phone call away', the dialogue, themes, storylines, soundtrack and even the costumes were all created by the wonderful imaginations of the participants.
After this, we found ourselves immersed within two very different communities, one that brings fish and chips to the masses and one that worships insects! Again devised entirely by the group and supported by their facilitators, our 11-13's performed 'Bugs, God and Battered Cod', a show taking a humorous look at what happens when you play the blame game and don't bother speaking to your neighbours.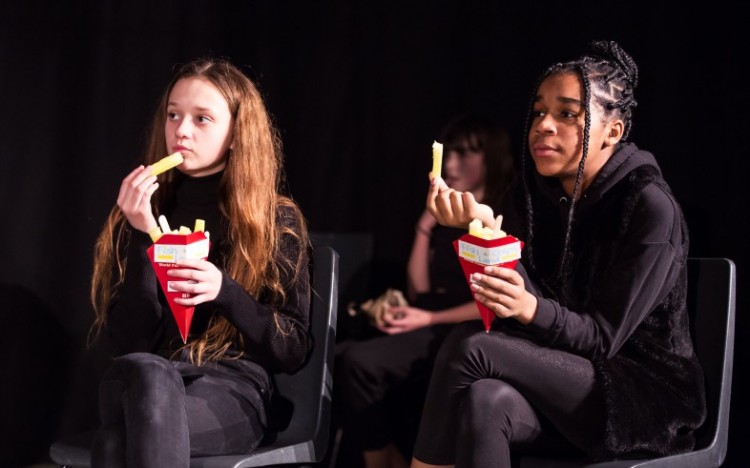 11-13's Youth Theatre group
performing Bugs, Gods and Battered Cod. Image by Camilla Adams.
To end the day, our 14-19's group presented 'People Are Strange', which began in the Travelling Light Studio, then led the audience through scenes in different spaces around the Settlement, before returning to the studio. Working with their facilitator, Liz Felton, they had created a diverse community of characters and an interweaving plot of deceitful storylines, exploring how honest communication can unite human souls from all walks of life.
It is a real pleasure to work with so many creative and talented young people across our programmes and the day provided a wonderful opportunity to showcase their work.
We were also delighted to raise over £400 in donations from the generous support of audiences on the day. These donations will go directly towards supporting our Youth Theatre provision.
Thank you to all the facilitators, assistants and volunteers who made the day a success, to all the audiences for their support, and of course the young people for their talent and creativity.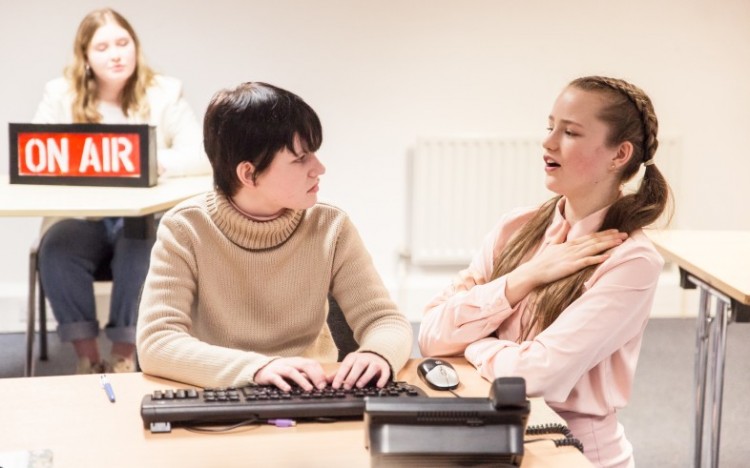 14-19's Youth Theatre
performing 'People Are Strange' at Youth Theatre Showcase 2020. Image by Camilla Adams.