20 Years of Youth Theatre - Q&A with Travis Alabanza
Published on 18 May 2022.

In 2021 we celebrated 20 years of running our Youth Theatre groups in Barton Hill with a call out to former members and practitioners to get in touch to share their memories and stories.

This month we speak to Travis Alabanza who attended our youth theatre between approximately 2008 - 2012.
Travis is now an award-winning writer, performer and theatre maker. Their debut show 'Burgerz' toured internationally to sold out shows at the Southbank Centre London, Sao Paulo Brazil, HAU Berlin & won the Edinburgh Fringe Total Theatre award in 2019.
The same year, the Evening Standard listed them as one of the 25 most influential under 25 year olds, The Guardian asked if 'they are the future of theatre' and recently they have been being listed on the Forbes30Under30List. Their debut book 'None of the Above' comes out on 4 August (2022).
When did you attend Travelling Light's Youth Theatre and how old were you?
Hmmm, my memory isn't 100% on how long. But I think I started at 13 until 17 or 18. From 2008 to about 2012.
What's your favourite memory of your time in Travelling Light's Youth Theatre?

So many. But I definitely think getting to go to London with the group and perform. I can't quite remember all the details of what we were performing or where, but I remember working so hard with the rehearsals, and the group, and having the best time in London.
And the time, Jen was the leader, and I just thought she was the coolest. I was a lot younger than others in the group, and I remember being so inspired by Raina and Ruby - it was just a really amazing moment. I hadn't really gone to London before, and I think my eyes started growing!
Can you tell us about any other activities or performances that you remember vividly?
I have to pick Vita! That was a show Travelling light let Ruby Etches and I collaborate on.
We got to write, direct and cast our own show - and it launched at The Fire Station then Tobacco Factory Theatres. I remember it vividly because it felt like a huge deal to be able to put on our own work.
I try not to cringe too much at the content now, and just get all excited about how it felt to be trusted with our own vision.
We had such a fun time. And were given so much free reign on our work. It's funny, when Burgerz, my debut show came out, people said "congrats on your first show" and I'd always say nope...when i was 17 there was this one show....... aha!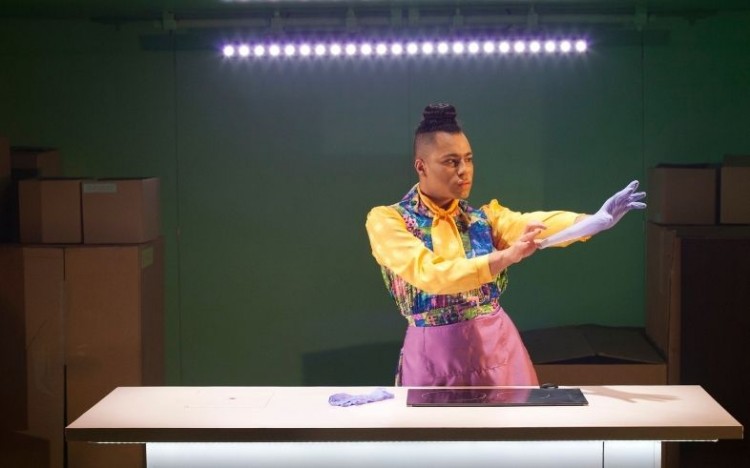 Travis Alabanza
performing in Burgerz.
Are you still in touch with any friends that you made through youth theatre?
We always smile if we bump into each other somewhere! Ruby came to my show at Southbank Centre and it meant the world. It's great to see the art Raina is doing as well.
Do you feel that attending Travelling Light's youth theatre helped with your personal development? If so, how?
Absolutely. I hadn't ever really been around artistic people, or creativity in that way, and it helped me realise that it was allowed and that there were different people in the world.
I remember quite vividly meeting people at Travelling Light, and realising even at 14 that this meant there were other options around me.
At the time, I was going to school on the outskirts of Bristol, where I often stood out. Travelling Light helped me realise that isn't always going to be the case.
What are you doing now? And did your experiences with youth theatre have any influence in your career choices?
I have been working as an artist since 2016. I write and perform in theatre, and also write for radio and TV.
My latest show 'Overflow' streamed via Bristol Old Vic, and my theatre show before that 'Burgerz' toured for a week here.

I would say Travelling Light completely impacted my career choice.
I first went to uni to not study the arts and I remember being very unhappy. I thought about the times I felt most fufilled and it was when I was making art and so much of that was thinking about making Vita.
I didn't know if it was possible to do it full time - but Travelling Light and my memories with it definitely made it certain that I enjoyed it - which is what I wanted to be led by.


Do you have a message for Travelling Light and our supporters?
Thank you!! I am so grateful for my time at Travelling Light, and it was literally the only place we could afford for extra curricular activities - it's so important for our city to have accessible arts spaces for young people, and I'm grateful to Travelling Light for creating them.
To find out more about Travis' work, visit: www.travisalabanza.co.uk
Help us continue to create exceptional experiences for young people in Bristol. Become a Travelling Light Friend - find out how.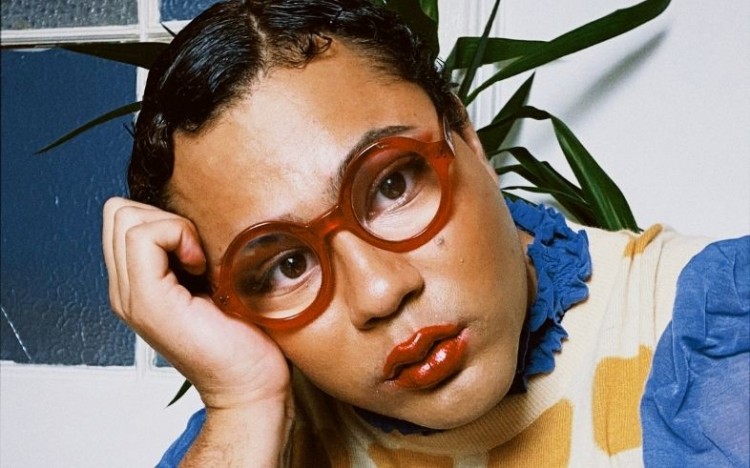 Travis Alabanza
who attended Travelling Light's Youth Theatre between 2008 - 2012.