Travelling Light Leaps Into Your Local Library
In 2016 Travelling Light were commissioned by Libraries West to create a piece of theatre which could tour to libraries to audiences of year 6 school children. Nationally libraries had noticed a decline in the number of teen attendees and one aim of the project was to inspire interest in schools' local libraries, and in particular, to help pupils entering secondary school to stay connected with their library. Travelling Light and Libraries West co-produced the tour, which directly targeted schools in areas of low arts engagement, offering free tickets to all school performances to ensure young people from all backgrounds have access to high quality arts activity in their local library. Not only did this allow 2,207 young people to experience theatre, many for the first time, the project also acted as a bridge between schools and teachers and their local library and librarians.
Both the Arts and library sectors have been subject to cuts in recent years. Travelling Light and Libraries West saw this project as a trial of a new library touring model, with learning outcomes which can be applied across children and adult theatre. In the future this could provide welcome income for both libraries and companies and assist with both partners' commitment to creating accessible creative experiences.The co-producers have created an evaluation document, available here, and a short film which both librarians and theatre makers may find useful when devising creative projects for use in libraries.
Evaluation Film
A summary of the aims and learning objectives of the project
The production chosen to tour was a remount of Travelling Light's The Mysterious Vanishment of Pobby and Dingan. An uplifting and heart-breaking story, based on the book by Ben Rice, set in the opal mining community of Lightening Ridge, Australia, where a young girls' imaginary friends go missing, and resulting tragedy unites the community. The fun, playful production dealt with themes of grief and loss and had a remarkable effect on children and adults alike:
"It really pulled me in, kept me interested the whole time and I was eager to learn more. Although it was sad, I really felt happy because even if they died I knew where they were and it helped"
- Young Audience member at Poole Library
"It made me happy as it made me feel like I was somewhere else for a moment"
- Pupil at Thornberry Library
"I feel it is an excellent project. Taking children out of their classroom and doing something completely different is really important. Libraries, the performing arts, informal education - all these things are very important for children. Judging by the questions asked (Are you two Australians? Are you two brother and sister? Were you very sad when your sister died?) shows to me that some of the children were taken to outback Australia and entered another world beyond Midsomer Norton. Empathy, sympathy, understanding: these are difficult things to teach."
- Librarian, Midsomer Norton
This successful project offered 57 performances for 45 schools in 29 libraries across 7 library services and we hope you will find the accompanying information useful when considering new touring mediums. If you have any further questions about the project please contact Travelling Light or Alison Catlin, Public Arts & Cultural Events Co-ordinator at South Gloucestershire Council.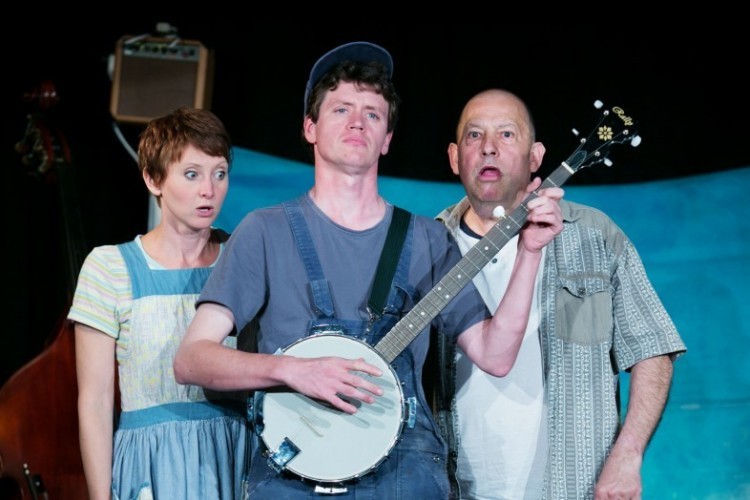 The Mysterious Vanishment of Pobby & Dingan
Photo Credit: Camilla Adams