Louder Than Words: Elijah's Story
At Travelling Light we love our regular youth theatre groups. One that has grown close to our hearts and become a firm branch of our family tree is 'Louder Than Words': our free therapeutic drama group for young people with additional needs aged 7 and up.
This group has evolved and developed since starting back in summer 2013 and one of the first people to walk through our doors was Elijah. Because of his needs, Elijah generally has difficulty with socialising with other people, connecting his thoughts and words in verbal communication, as well as difficulties listening to and retaining information.
Elijah brought joy to the group from day one. Upon first impression, we knew instantly we had a very curious soul before us; this 9-year-old was intrigued by his surroundings, ready to explore and communicated with very few words. His gaze and actions could tell us much more, and our team recognised a great sense of playfulness and readiness to have fun. One of Elijah's trademark games was playing cowboys and riding around on a cushion chanting 'giddy up'.
Although these traits were very much present, it was challenging finding a way for Elijah to engage with other members of the group, and stay in the room for drama sessions. We offered Elijah 1:1 support from his first day with us. We found he could stay focussed for around ten to fifteen minutes, before becoming distracted by something which would take him outside of the room, and we would lose him. At this time Elijah was mainly communicating with us non-verbally, and we were using alternative methods such as PECS (Picture Exchange Communication Systema) and Social Stories to offer choices of staying in drama or going home. Elijah would choose to leave early. Even with 1:1 support, being in a social environment with other young people for an hour was too much. Julie, his Mother commented: "When Elijah first came I wouldn't get any information out of him about what he'd done, he was participating in his own way but not in a way you'd recognise."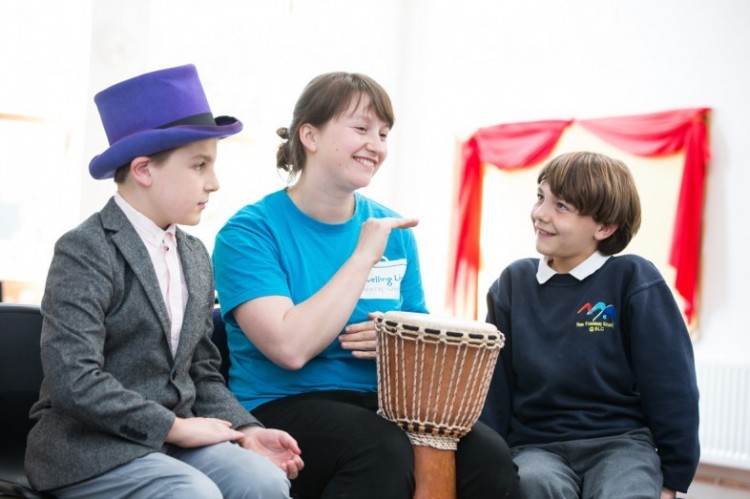 Elijah
in a Louder Than Words session
Over the months and years, we have seen a huge transformation in Elijah. Gradually the time he was able to stay in the room built and built, from fifteen to twenty minutes, twenty minutes to half an hour, and so on. At the time of writing Elijah has been able to stay in the room for a full hour in nearly every session for the past year. What's more, we have seen a dramatic improvement in the way Elijah interacts with others within the group, and how he partakes in activities. Julie told us, "…now I know he's participating and he's able to tell me what he's done and reflect on it. Sometimes content of workshops will trigger a memory for him and he's able to process what he's done."
Elijah is now 12 years old, and has been a regular member of our weekly youth theatre group for three years. In 2015 he played the drum during our Christmas sharing while the others acted out their scenes, it was the first time everyone in the group had contributed to a performance. "You see how long it actually takes sometimes. Now he is properly engaging, not just being here, really taking part", said Julie.
Elijah is one of ten participants of this remarkable group, and his story illustrates how big changes can take a while to bring about. An hour a week over three years, Louder Than Words gives Elijah the space and permission to take things at his pace, feel supported, whilst also nurturing his interests. We know this has greatly helped his self-confidence, and social skills with others. Julie said:
"…his pride in coming to drama is a major thing. To be able to say 'I go to drama and my brother goes to football' gives him a sense of ownership. Having those things outside of school like any other child would have afterschool activities, that's just about him."
We asked Elijah, do you like coming to Louder Than Words? He replied: "I sure do."
You can see Elijah and our Louder Than Words youth theatre in our original film 'OUT OF THE WOODS': https://www.youtube.com/watch?v=k5VaPbTzM3U
We would like to thank all our funders past and present of Louder Than Words, including St. James' Place Foundation, Quartet Community Foundation, BBC Children in Need and the John James Foundation.
Louder Than Words runs on Mondays from 17:30-18:30 in Barton Hill Settlement, and is free to access. If you would like a registration form please get in touch with Giulia: giulia@travellinglighttheatre.org.uk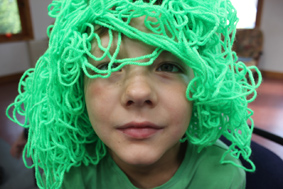 Elijah
in a Louder Than Words Session