#culturematters to the Etches family, passionate advocates of Travelling Light for over 20 years.
Meet Jenny Etches. Ex-Chair of the Board, Trustee, committed fan, volunteer, youth theatre parent, listener and advice-giver, all round good egg, and part of the Travelling Light family.
Hello Jenny. Your personal involvement with Travelling Light started in 1994. What brought us together?
I became involved with TL through 3 members of the then management committee: Hilary Smith was a drama teacher, Nicky B and his partner, Claire Hudman were both performers. I knew very little about the company but had recently attended the 10th anniversary fund raiser through these three friends. My husband, Dave, had been conscripted at that event to be the auctioneer at the promises auction so we both were invited to join the committee later that same year. Our children were small, 1 and 3 years old, and they grew up alongside our involvement with TL.
Despite being a pharmacist my background included my mother having been a professional actor before she had children. Due to her own interests in the theatre she took me to a lot of theatre as I was growing up and then I found myself sharing a flat with a drama student whilst at university which continued my interest in theatre. I also wanted my children to develop a love of theatre and becoming a committee member seemed a way of doing that.
What's been your favourite role or responsibility at Travelling Light? You've helped us in so many ways!
Both Dave and I had a lot to learn about the company and the whole theatre environment. We came on board as enthusiastic amateurs but I think we left as professional and well-informed and useful trustees. We were involved in changing the status from cooperative to charity and, with dedicated staff, especially Jude Merrill and later Cath Greig, and other trustees, taking the company forward from a staff of one to the amazing creative company of eight it is now. I have been heavily involved with recruiting many of those staff, including previous and current education officers and general managers, and I have particularly enjoyed that part of my role as trustee. In later years I was also a secondary school and sixth form governor and I used a lot of what I learnt in that role to inform my involvement with TL. I have always been a great believer in the role of the arts in the development of young people, especially at secondary level, and TL really fulfils that for me. I sat in on the Youth Board for several years and I remain as enthusiastic about the role of drama in the lives of young people as I have ever been.
Dave took the role of chair and on his retirement from the board he continued to contribute to the company as a seconded member of the Finance Committee. His time as chair of the board gave him experience that he took forward when he became the chair of the board for an inner city farm and charity. He probably would not have taken on this role without the experience gained from his time with TL.
When the staff and trustees were exploring our core values and ideas about how we would describe ourselves I came up with the strap line Just Bring Your Imagination. I'm thrilled that this was taken on and is still used by the company. For me it epitomizes everything I hold dear about the company and can be applied to both performances, participation and even being a trustee. TL allows everyone to bring their imagination and let it roam free.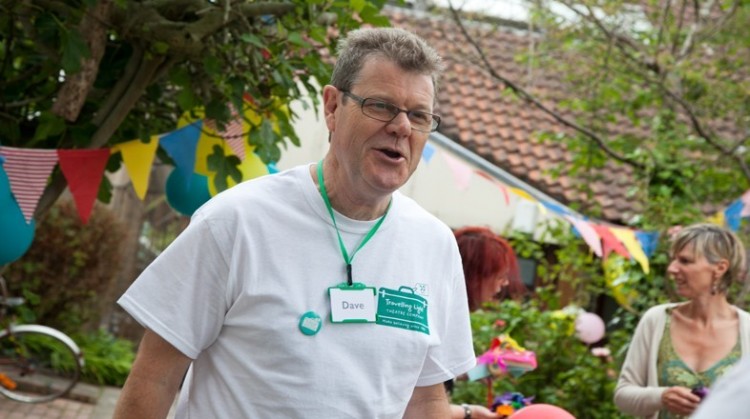 Dave Etches volunteering at 30Fest, 2014
30Fest was a free family theatre festival hosted at Barton Hill Settlement, to celebrate our 30th anniversary
If you could remount one Travelling Light production, which would it be?
It's hard to think which TL show I would like to see again. The obvious one would be Into the West. In its former guise as Tir Na N'og, it was the first TL show I saw after becoming a trustee and it was exciting and moving and it made me proud to be involved with the company. It's no surprise that this great piece of storytelling is being restaged and I'm looking forward to seeing the new version. I do, however, have a soft spot for Sorted, a coming of age show that examined what it's like to be a teenager growing up. I also really liked Stones about two teenagers involved in a fatality. Seeing young people in schools engaging with some very difficult issues arising from this play was a delight and a privilege.
Your daughter Ruby was heavily involved in Travelling Light's Youth Theatre, directing Vita our first production as part of The Buzz project. What has been the lasting impact for your children of Travelling Light's work?
As our children grew older it became clear that our younger child, Ruby, had a particular affinity for theatre. She was, at one time, a member of three youth theatres including Travelling Light and Bristol Old Vic Young Company. She performed in Travelling Light youth theatre's Paper Wings (2009) which went to the Unicorn in London. Her major involvement came when she, and another youth theatre member Travis Alabanza, developed the idea of doing a performance written, directed and performed by only young people. They presented the idea to the company who decided to take the risk and step out into the unknown and support them with this enterprise. This became the play Vita (2013), which Ruby directed, with a cast ranging from 12 to 19 years old which was performed at the, then newly opened, young people's hub The Station and later at the Brewery. Due to a cast member being unwell Ruby had to step into one of the roles at the last minute during the second performance. I believe that her involvement with both Travelling Light and Bristol Old Vic is why she is, at the time of writing, currently finishing her acting degree at Birmingham School of Acting. Our other child, Morgan, did not follow the same path but would come along to help out at events and his childhood was very much coloured by TL performances over many years.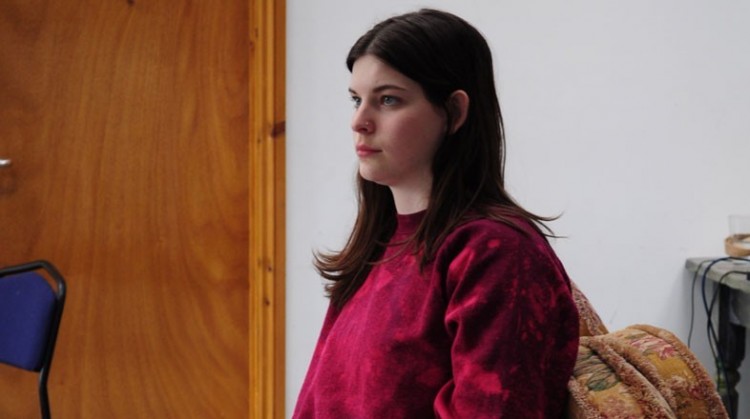 Ruby Etches in rehearsals for Vita, 2013
Vita was the first production as a part of The Buzz, a project which gives 16-19 year olds ultimate creative responsibility for making an original show.
Why is theatre so important to you as a family, and why does Culture Matter?
Theatre has been a central mainstay of our family especially when the children were small. It offered a space for what I believe is essential to the human soul: telling stories. As a family we would, and still do when we are together, sit in a theatre or a performance tent or even on the beach, and watch as stories unfurled in front of us: stories of adventure, of bravery, of kindness, of death and grieving, of joy, of reconciliation, of forgiveness and of growing up and so much more. This is why culture is important to any community. It gives humanity to our lives which can often feel rushed and hectic and stressed. It can give meaning to us when we are lost or feeling small. I believe that's very important for children and young adults particularly in these days of screens and instant gratification. Live theatre in this digital age can carve out a place to take yourself to be replenished and restored to yourself. Culture can mean so many things but for me it's what can keep us sane in a modern, fast moving world. Travelling Light gives that space and time to children, often those who don't have access to it. I regard myself as fortunate to have been part of that, offering to others something that was easily accessible to my own family. Whether they're aware of it, or not, my adult children have been informed by every piece of theatre they have experienced since they were toddlers.
For more information on Arts Council Englands #culturematters campaign click here.