Louder Than Words - catching up with Anne and Zoe
Published on 16th September 2020.

Louder Than Words is a unique drama group for disabled young people aged 7+, where young people learn new skills in drama, music and storytelling in a supported and friendly environment with a team of experienced practitioners.

Before lockdown in March, Louder Than Words met weekly during term time for face-to-face sessions in the Travelling Light studio. Since then, facilitators have been running online sessions for the group to take part in at home.

Zoe is 10 and has been attending the Louder Than Words group for the past 3 years, having started with Travelling Light's Youth Theatre when she was 4.
We caught up with Zoe's mum Anne to find out what Louder Than Words means to Zoe and her family and what she most enjoys about being part of Louder Than Words and Travelling Light Youth Theatre.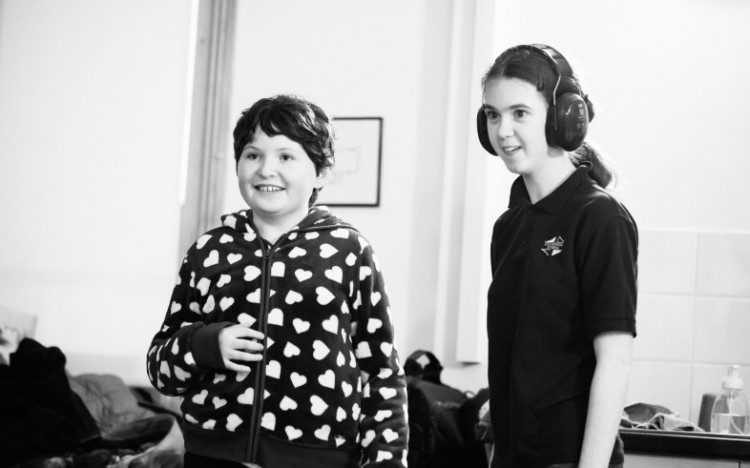 Louder Than Words
Zoe taking part in a Louder Than Words session in March 2020.
"It is amazing to have this group – the consistency is really important to her"
After attending the 4-6s youth theatre group, Anne realised that Zoe would struggle to join the 7-10s because of her learning difficulties (Zoe has now been diagnosed with autism). Zoe always struggled to go to any mainstream groups, so it was suggested that she join Louder Than Words.
Anne explains:
"It is amazing to have this group – having the consistency is really important to her. And having a place where she really means something, where everyone in the group is really important and seen."

"The space to be creative and come together with like-minded children"
Anne says it's the people and the space to be creative that Zoe loves most about Louder Than Words.
"The people – Zoe really likes that connection with people. Both the staff and she's managed to make some friends in the group. It's great that she shows interest in other children and they also show interest in her. Zoe is now connecting with two friends outside of the group. It's also been nice for me, as we don't know that many people around with kids and it's been nice to connect with the parents too.

It's a long process, it doesn't happen instantly – it takes time to build those relationships. The group facilitates that coming together – a lot of it is providing that space. The group isn't just focussed on performance in the conventional way – as she finds that really difficult. She really enjoys the lack of pressure, but the space to be creative and come together with like-minded children. The opportunity to use their imagination is great.
I think the consistency of the group and the way it builds a community is really important. We don't have any other family living around here, so for me it's a bit like family – it's that familiarity – going to see the same people every week and knowing people. It sounds so straightforward actually but it's brilliant."
"My time, my session, with my friends"
Zoe has really enjoyed the Zoom sessions with the group. Anne explains that Zoe has struggled to engage with much online content since lockdown, but the interactive online sessions she has really taken to.
"As soon as they started the Zoom sessions – she was clearly loving it and I really hope that can continue. She was just so confident with the screen. She would send me out of the room saying 'my time, my session, with my friends'. I really like that – to see that ownership and connection. She took to that instantly. She loves having everyone there, seeing everyone coming onto the screen and the Zoom session.
The staff are so passionate about what they do – and having a 1-1 engagement is so great for her – she still doesn't have that in school, so it's so important for her to have all that input and that chance to socialise and grow as a person through imaginative play."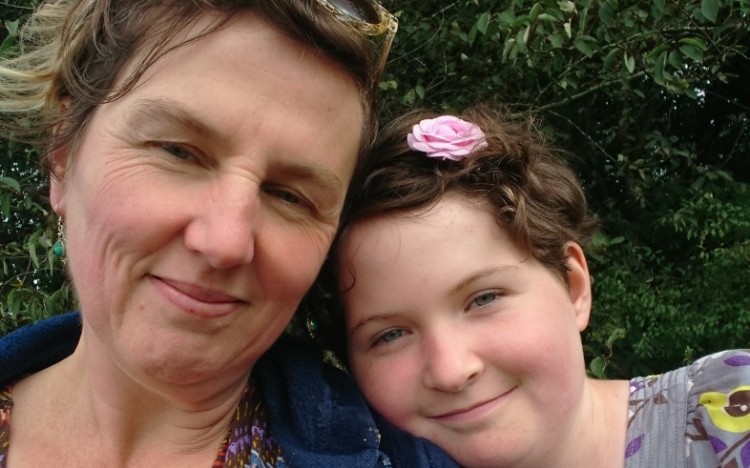 "A support network around them"
Travelling Light provides an important support network for Anne and her family.

"People sometimes take it for granted that they have a support network around them or a family network. I think especially for children with special needs like Zoe, that hasn't come automatically at all. Travelling Light is absolutely vital for creating that space. It would be devastating if that was to go, so I really, really want that to carry on for years to come.
I think particularly through teenage years, it will probably be harder, so having the consistency of that place that facilitates a coming together for the young people, but also the parents. The children are sometimes isolated, but us parents can also be isolated, so it's really great to have a place to come to where you feel so welcome.

I'm so happy for her – to have that weekly Monday session. I think it's just brilliant. And I love the passion and the time that people put into it. And actually trying to create something – to come up with ideas and be creative – bringing out children's creativity and getting them to think about stuff in an imaginative way."
"Coming to Travelling Light is very much home from home"
Based at Barton Hill Settlement, Anne explains how important it is to have the group based so locally.

"Coming to Travelling Light is very much home from home. We are very lucky to be just around the corner. It's one of the few things that is on our doorstep so it's just brilliant. It works very well for us. Zoe's not physically very fast, so being very local, only having to walk 5 minutes down the road is brilliant and really helps. I'm so pleased – please don't ever move from here! I think it's brilliant – thank you. Long may it continue."


You can find out more about Louder Than Words here or please do contact us for more information.

Can you help Travelling Light to keep providing creative experiences for young people in our Louder Than Words group?

Become a Travelling Light Friend or donate today to help us continue to support young people with creative activities.