20 Years of Youth Theatre - Q&A with Mike Akers
Published on 8 June 2022.

In 2021 we celebrated 20 years of running our Youth Theatre groups in Barton Hill with a call out to former members and practitioners to get in touch to share their memories and stories.

This month we speak to Mike Akers, who has worked with Travelling Light's Youth Theatre for many years.
When did you start working with Travelling Light's Youth Theatre?
I started working with the youth theatre around 2004. I then worked as an employee of Travelling Light from around 2004 to 2010, but I've done several other projects with the team as a freelancer since.
What's your favourite memory of your time working with Travelling Light's Youth Theatre?
Tough question! Probably the site specific summer schools we used to run, which included devised performances in places like the Redcliffe caves, SS Great Britain, Goblin Coombe and the old Mangotsfield train station.
Can you tell us about any projects, performances or activities that you remember vividly or were particularly proud of?
I wrote a play for one group when Jen Camillin was running the youth theatre. It was called 'Lucky 7' and was based on devising sessions done by the group. This was set in a café and was performed in a real café in Staple Hill which was run by the dad of someone in the youth theatre.
There was also the time I supported Jen in taking the group to perform a fantastic play called 'Paper Wings' at the Unicorn Theatre in London. That was a really great production.
My favourite memory of youth theatre is probably when we performed the summer school show in Goblin Coombe and a boy called Liam who was in the youth theatre for many years sang a song in the woods which he'd composed himself called 'The Sad King'. That was lush.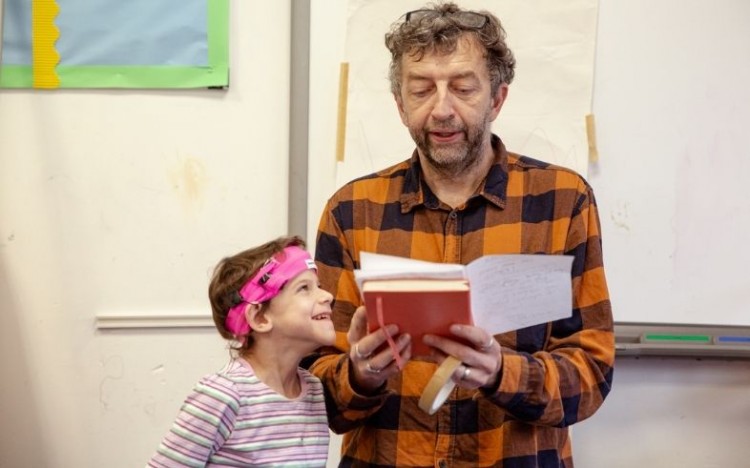 Mike Akers
during a workshop for Travelling Light at Cearleon Child Care exploring creativity and collaboration through storytelling.
How important do you think it is for young people to have the opportunity to take part in youth theatre groups?
I believe that for some people such opportunities can be genuinely life changing and that it is vitally important for youth theatre to be accessible to all regardless of their socio-economic background.
What are you doing now?
I am a freelance writer mainly, but I still do a lot of work in training and education to help make ends meet.
Do you have a message for Travelling Light and Travelling Light supporters?
Travelling Light is a brilliant company doing great work in theatre and in the community. Keep supporting them!
Mike is a writer, theatre maker and early years specialist. To find out more about Mike's work, visit: www.mikeakers.co.uk

Help us continue to create exceptional experiences for young people in Bristol. Become a Travelling Light Friend - find out how.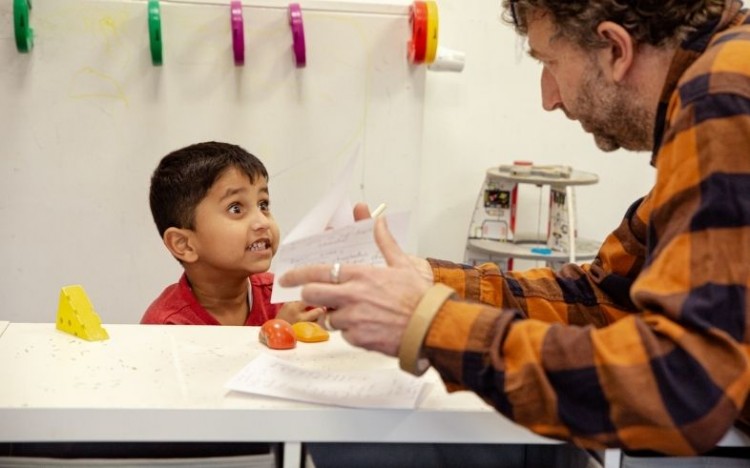 Mike Akers
during a workshop for Travelling Light at Cearleon Child Care in 2022.