Give the gift of theatre this Christmas
This year Travelling Light would like to offer children and their families from our local community a Christmas present: A free trip to see our magical new show for the very young, Igloo.
Igloo is our latest co-production with Bristol Old Vic, a sensory experience filled with sights, sounds and texturised play, perfect for babes in arms and toddlers, accompanied by their carers.
Many families in our local community of Barton Hill would love a trip to the theatre but cost and lack of transport create real barriers to enjoying the experiences that other children in the city take for granted.
Travelling Light would like to offer our local families a special Christmas gift to enjoy together:
a trip to the theatre. To do this we need your help...
A GIFT OF:
£10 would offer a magical theatre experience for one child


£25 would offer a child and caregiver tickets and transport to the show


£100 would offer a small group of supported families a trip to the show*
*Donations will go towards tickets, staffing and transport costs for a trip to Igloo for local families. Any additional income raised will be invested in creating our next magical show for children and their families.
We are working with the Barton Hill Settlement Family Centre on this campaign. Their staff have told us 'Parents cannot express how much they appreciate this trip, it could not have come at a better time'
The families are eagerly looking forward to the trip:
' Lovely family trip, thank you.'
'Thank you, that's so kind of people to think of others in this time of year.'
'A great opportunity for all of us to get together.'
'Thank you for providing transport as I don't know where I am going. Also transport is very expensive.'
Don't forget, this year Travelling Light is part of the Catalyst Evolve programme which means for every £1 we raise, Arts Council England will give us an extra £1 making your donation go even further!
To support our Christmas campaign click here, pop in or call: 0117 3773 166.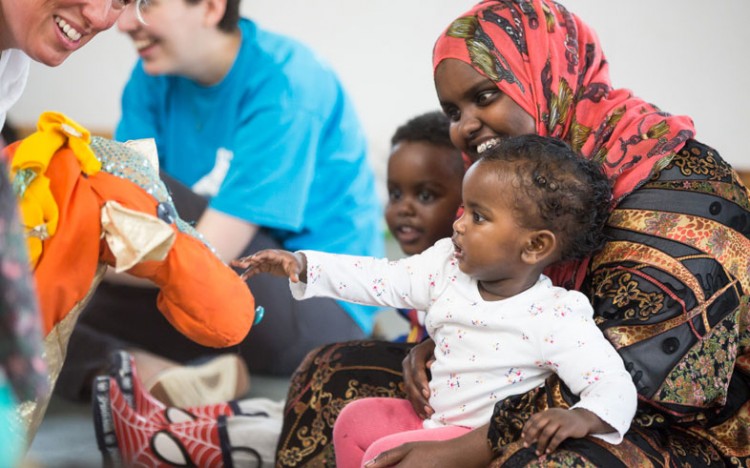 Give the gift of theatre this Christmas
A family enjoying a Family Theatre performance in Barton Hill Bristol