Presenting…"Out of the Woods" an Original Film by Louder Than Words
Travelling Light are proud to present "Out of the Woods" by our Louder Than Words Youth Theatre for additional needs. We have been working with professional filmmaker Camilla Adams and Dramatherapist Alice Nicholas since 2015 to create this film, and it's finally finished!
The film stars ten participants aged between eight and sixteen, who imagined and created an eclectic array of characters, bringing them to life in the of 'City of Treetop'.
Clicking on the video below will take you on a journey into the wonderful imaginations of these remarkable young people. You will smile at the friendliness of Phoebe the Giraffe, Annie the Cat and the Happy Ghost, marvel at the bravery of the three princesses, and the wickedness of Shadow Freddy and his sidekick the Robot Leader might even send a shiver down your spine!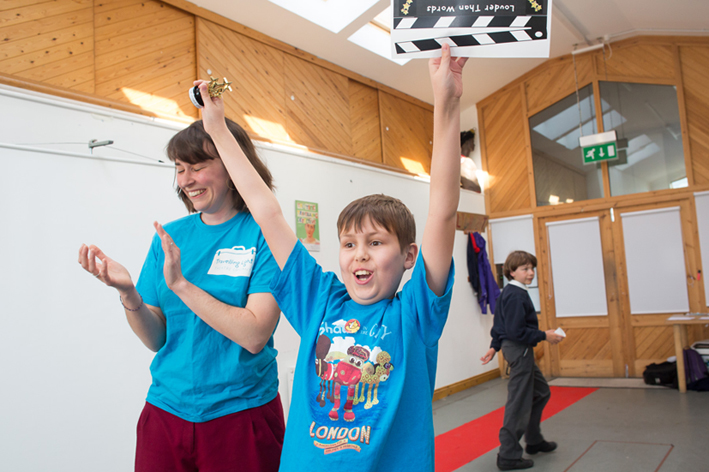 Isaac collecting his award
Awards were also given out at the premiere of the film!
We premiered the film at a red carpet screening for family, friends, teachers and support workers. After watching the film and scoffing our popcorn, we presented each young person with awards for teamwork, directing, voiceovers and co-starring with their peers. We are so proud of everyone involved in this film and would like to say a huge thanks to all the parents, carers and trustees who have supported Louder Than Words.
Happy viewing!
Out of the Woods
A Louder Than Words Original Film
Kindly supported by
BBC Children in Need