Saturday 10th March, 10am - 3pm
Barton Hill Settlement
Travelling Light are delighted to invite you to a fantastic free day of family theatre curated by our University of Bristol placement students.
The day will feature four original plays created to spark young imaginations and leave audiences enchanted. Each performance has been created by the University of Bristol 2nd and 3rd year Theatre and Performance Students. Performances will take place on the hour and audiences can expect moving storytelling, music and dance for everyone aged 4 and over.
Travelling Light Youth Theatre will also be there, ready to provide their trademark tasty refreshments and entertainment. Be sure to devour a delicious treat from the CAKE SALE and discover a new tale created before your eyes with the TRAVELLING LIGHT STORY MACHINE.
Performance times: 10:00am, 11:00am, 13:00pm & 14:00pm
Entry details: Ages 4+, admission to the performances is on a first come, first served basis.
All donations go towards Travelling Light Youth Theatre.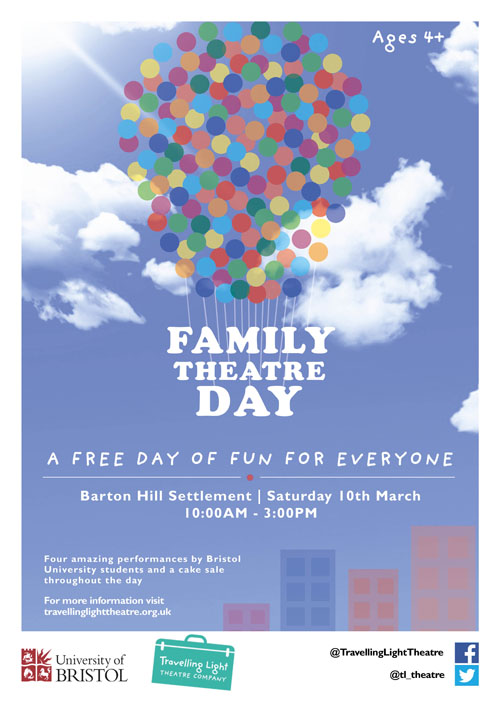 Perfect for everyone aged 4+
Bristol University Students create a theatrical feast for local families