An interview with Jude Merrill
Jude worked with Travelling Light for 30 years, and was fundamental in building the company to the internationally acclaimed organisation it is today. She was a pioneer in the world of Theatre for Young Audiences. Gwen, our Marketing and Development Assistant, grabbed a quick interview with Jude, before she retired at the end of August.
How did you first hear about Travelling Light?
I was on holiday with my family in the Gower, and I got up one morning with my friend running over, waving a copy of Venue in the air (Bristol listings magazine) saying 'I've found you a job Jude'. I remember coming home from the interview going 'I'm going to be really upset if I don't get that job, because I really liked them'. I couldn't even type, but I promised to learn and I went to an evening class each Thursday where you learnt by typing along to music and I would fall asleep every week.
What theatre experience had you had before?
I learnt most by being on the job, I was the only paid member of staff so had to do… everything! After I got the role I shadowed Dr Foster, a local theatre company of whom Greg Banks is a founding member (Director/Writer of Into The West). ACTA and the Independent Theatre Council were amazingly helpful. And you could always ring 'South West Arts', the South West Branch of the Arts Council, and speak to Betty, the administrator who ran the whole place. If you had any problems Betty would sort you out.
What has changed since you first started working in Theatre in the South West?
It felt cosier. We would have regular meetings with all the theatre makers in the south west, it felt more like a family. Now it feels like there's a heck of a lot more theatre happening and the theatre world has got a hell of a lot more exciting.
In those days there was Children's Theatre, which we felt a bit snooty about because it felt a bit too jolly and a bit like children's television, and there was Theatre in Education(TIE) which felt more serious. And I suppose we leant more towards that, though the company never called itself TIE. When I got to know a bit more about it I don't know that I liked TIE because they always seemed to put the education first, rather than the theatre. All I wanted was to make good theatre. That was all I ever wanted to do.
When we got to the scene it was nearly all Panto and TIE and it seemed really important to ditch the idea that that's all that we (the UK) could do.
How does the UK Children's theatre scene compare to those worldwide?
The Danes got more funding that we ever did, early on, it felt like they had a feast, each organisation had a continual company of actors with whom they could play and experiment. And it struck me that having a lot of time to make shows was a way to create quality. So we tried to do that wherever we could, because we've never had the funding they had. I started creating a pool of people we could work with, which meant working with local people. We didn't have a permanent company but we did have a group of people who evolved together and I tried to make sure we saw shows together quite a bit so we had points of reference we could draw on. An informal rep company if you like.
Travelling Light were one of the early pioneers of R & D (research and development) as part of the professional process, how did that start?
I had a letter from the Arts Council saying 'if we gave you £10,000 what would you spend it on?' and I knew immediately, I said we'd make this show we did better, we'd use some R&D time, to really suss out the age of the children, we would work in schools with them, and we would redo this and redo that. We got the money and it really worked! After that we needed to find money for R& D each time because that's what makes the shows good.
What made you choose Sally Cookson to direct a professional production?
I saw her youth theatre shows (when Sally was jointly in charge of youth theatre at the Bristol Old Vic). If I was interested in a director, I would be interested in watching them direct a piece of youth theatre. It's a great way to see how they work, suss them out as people and see if they have good ideas.
What are the differences in making work for adults and young people?
That's easy: thinking about your audience. I think that adult theatre is learning from us because there is a move to make theatre more acceptable across a broad range of audiences, so people are making work for a specific sector of the audience which is what we've always done. We've been thinking about an age range or schools or a particular community, that's always what we've had to do and adult theatre never did, they made theatre and audiences could take it or leave it. But now because of the emphasis on extending the audience, really extending it so there is theatre for everybody, now there is a lot more emphasis on making work with particular communities in mind, particular types of people, a particular class of people, plays are made for one area and now they are absolutely thinking about their audience. This is something which has been passed on from children's theatre and I think we've led the way in that.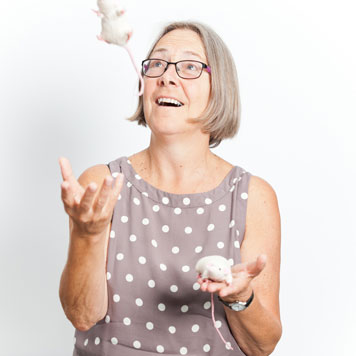 Jude Merrill
Artistic Producer at Travelling Light 1987-2017